This step is only required if you are setting up a custom DKIM record for your organization.
A feedback loop (FBL) is a communication channel with an Internet Service Provider (ISP) that allows abuse complaints to be sent back to WordFly. Abuse complaints are sent when a subscriber clicks on the spam button in their email. Most FBLs are IP based which means that WordFly has already signed up for these. Yahoo is the only ISP that has a domain-based FBL.
Learn how to set up the Yahoo FBL in this article. Let us know if you need assistance with any part of this process by replying back to your WordFly getting started ticket or other open support ticket.
Before you set up the Yahoo FBL
Before starting this process, make sure you have completed these items:
DKIM published for your sending domain
Postmaster@ mailbox set up and ready to receive incoming emails
Yahoo email account (either a personal account or company use account works). If you do not have a Yahoo email account, go to https://mail.yahoo.com and select Create Account. Follow the instructions to create an account.
Note: If you are using Gmail for your company emails, Gmail removes direct access to the postmaster@ mailbox. Open a support ticket with Google and explain that you need to set up the Yahoo FBL using the instructions in this article. Google can help you with the verification code that is needed to finalize the FBL request.
Set up the Yahoo FBL
1. Log in to your Yahoo email account https://login.yahoo.com
2. Browse to https://senders.yahooinc.com/complaint-feedback-loop/
3. Select Complaint Feedback Loop.

4. A form will appear with the title Yahoo Complaint Feedback Loop Service.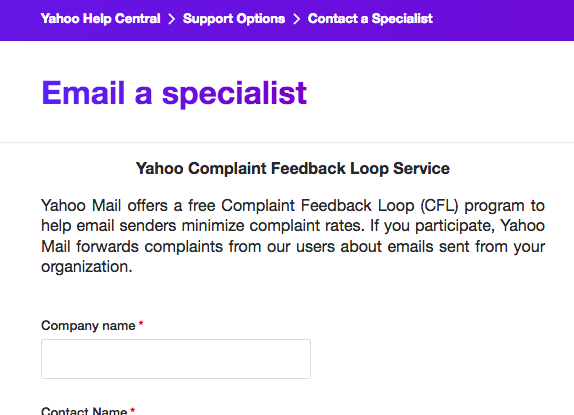 5. Fill out all the fields as follows:
| | |
| --- | --- |
| Company Name | WordFly |
| Contact Name | [Enter Your Name] |
| Contact Email | abuse@wordfly.com |
| Reporting Email | yahoo@fbl.wordfly.com |
| Selector | wordfly02 |
| Request type | Select 'Add' |
| Domain | [Enter your sending domain] |
6. After entering your Domain:
An email with a unique verification code will be sent to your postmaster@ mailbox.
Keep this form open while you go to find the email from Yahoo.
The email from Yahoo will be coming from 'yahoo-account-services-us@cc.yahoo-inc.com' and IP 216.39.62.112. You can try adding their from address to your contacts list or safe senders list; or, ask your IT team to safelist the sending IP. If you are not receiving the Yahoo FBL email you might try (1) confirming that your postmaster mailbox is actually receiving any outside emails at all, if you can't find this message you probably have a problem to fix before finishing the FBL, or (2) check to see if your mail server is rejecting the verification code email message because the from line used by Yahoo is too long (this is mostly an issue on the PowerMTA platform).
Open the email from Yahoo and retrieve the verification code.
To resend a verification email, you must fill out the form again.
Example of email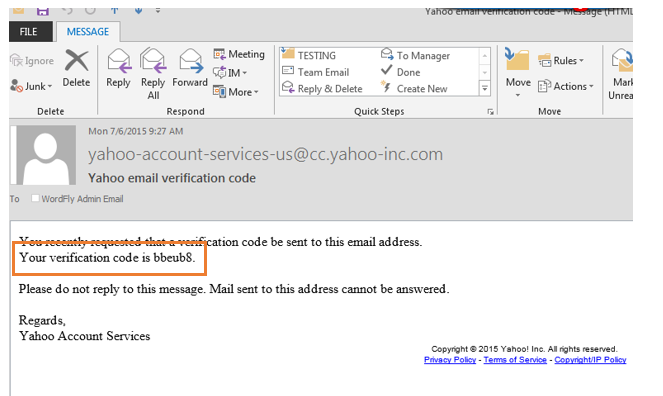 7. Fill out the remaining fields:
| | |
| --- | --- |
| Verification code | Enter the unique verification code from your Yahoo email |
| Click button | Click Create Request button to finish |
Make sure you have a success message on this form after selecting Create Request. The Yahoo success message will state that it takes up to 48 hours for Yahoo to review and confirm your request. This means the request was submitted successfully. If this was not successful, go through the setup steps again.
8. Let us know you have completed this form