We're always adding new features! Our latest updates are all grouped by development sprints named after our favorite movies. Are you WordFly Famous? Check below! We also give shout-outs and high-fives to our customers whose feedback turns into an update. To see our full list of updates, check out our release notes inside WordFly.
June 24, 2021 — The Matrix Reloaded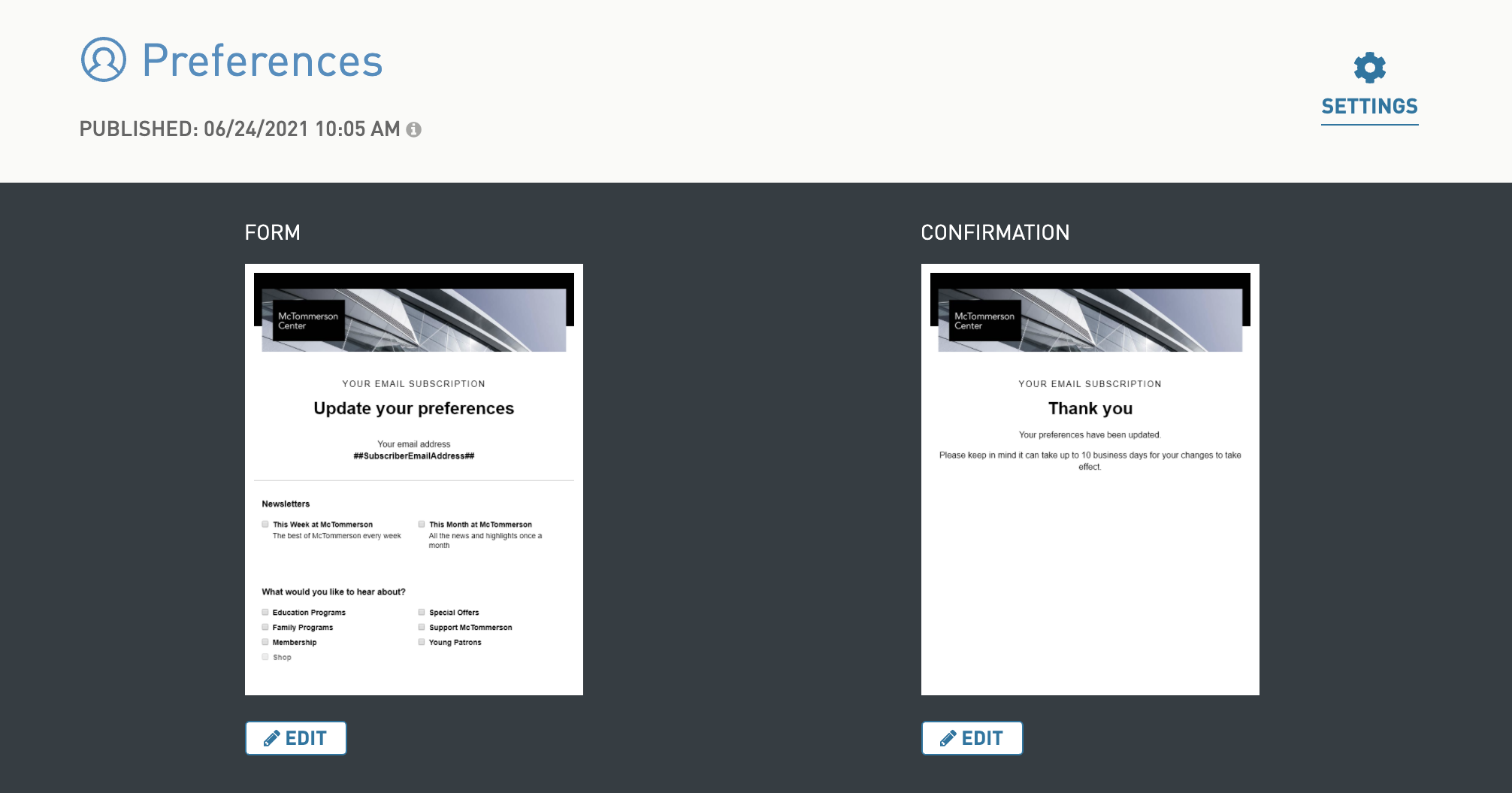 New for Pages!
A new place to manage your signup process
You can now customize your Unsubscribe, Subscribe, and Forward forms in Pages, instead of the Account section. By request, you can also now create a separate page for updating Preferences. You do not need a Pages subscription for these four new pages. They are free with your account. We recommend moving to these new pages as soon as you can for better usability and security.
Take a look at the new pages and our tips for setting them up →
There's also a new place to create and edit preference options for your Subscribe and Preferences forms: Subscribers > Preferences. You can control who is allowed to create preferences by selecting the new Manage Preferences permission on Account > Users
A huge thank you to our customers for your ideas about these features: Kerstin Adams, James Clark, Owain Elidir, Rosie Field, Benno Hotz, Hazel James, Krystle Kline, Dot Krebs, Robert Lanham, Christine Long, Rob McMicking, Jamie O'Brien, Grant Offerman, Shane Richey, Amanda Schwarz, Jon Tjhi, Paul Vanness, Kaylee Wise, Yu Ye Wu, and Nathan Zanon.
Modern Editor + Starter Emails
We've added the option to insert special characters into Buttons. We've also updated the Styles design to make it easier to set Bold and Italics for Captions and more. You'll see new options to set styles for Unordered Lists and Ordered Lists, in addition to List items. David Libbey, this one's for you.
Starter Email E has new some new colors and padding on the containers for an improved design on mobile. The Blank Email starter email is now showing the drop zone as expected. We also resolved a heading bar background color issue in Yahoo in all starter emails. And one last update: Links to PDFs no longer incorrectly trigger a Pages Test Link warning.
More Improvements + Bug Fixes
We've dropped the word Templates from the term Email Templates.
For security of your data and your subscribers' data, we're now automatically locking user accounts if they have not logged into WordFly in over 180 days. To be unlocked, users can reach out to any person with Manage Users permission at their organization.
You'll see design updates throughout Email Campaigns, Reporting, and Pages. Lists are now sorted by Most Recent in multiple places throughout WordFly. Subscriber Search was rebuilt to improve loading speed and take you directly to a subscriber profile if only one address is found. The Testing page also has a new streamlined look. In Inbox Preview, all actions are now all on one page; Template Review is now called Email Checklist; and we fixed an issue where A/B Test version was not included in subject line. We also fixed a Subscriber Preview issue where data fields in subject line could not be previewed for a triggered campaign.
In Pages, we added a Copy Published URL option to the index page for quick access to your page link. We also fixed the issue where survey results showed repeated question in certain cases and where pages could not be saved because the stylesheet was missing.
Lastly, in Data Fields, you'll find two new date formats: Day, Month XX and Day, XX Month.
Thank you so much for your ideas: Katie Back, Laima Haley, Sunny Mand, Brittany Petruzzi, and Lee Turkovich.

February 2021 — The Matrix
Data Export Features — By request!
In all of our Metrics exports, we've added columns to view Google Analytics tags, Labels, Email Template, and Subscriber List for each campaign. Percentages now display with decimals in Metrics by Mailing.
In the Subscribers in Campaign, Events by Campaign and Account exports, you'll now see which version of an A/B campaign that a subscriber received.
In the Subscribers by Account export, we added columns to view Subscriber Status and whether the address is valid.
Thank you for your requests, Nareen Jandu at Southbank Centre, Kelli Zieg at Ticket Omaha Performing Arts, Rhiannon Tasker and Samantha Erenberger at American Museum of Natural History, Owain Elidir at Welsh National Opera, Caryn May at Victoria Theatre, Jamie O'Brien at New42, and Jon Wolper at National Zoo.
Engagement
We made sending adjustments to ensure that your most engaged subscribers receive their campaigns first. Standard campaigns are now sent to subscribers in order of engagement rating (5 Stars first).
On the Subscriber Insights and Subscriber Profiles pages, new subscribers who do not have engagement ratings are no longer grouped with 2 Stars .
More Improvements and Fixes
In the Blocks Editor, we added the right-click menu for easy access to duplicating and deleting. Thank you for your request, Jen Novak at Walker Art Center.
All time zones are now supported, including Australian Central Daylight Time (GMT+9:30). Thank you to Tom Bastians at Adelaide Symphony Orchestra, Laura Danesin at Adelaide Festival, and Kacy Ratta at Illuminate Adelaide.
Based on your feedback, we fixed up a few things. Thanks to the team at West Australian Ballet, we added a Date Last Imported column in Subscriber Preview. Thanks to the team at Science Museum, we improved our Start and End Date validation for scheduled email campaigns. In Emails, we fixed an issue where conditions were not converted correctly from HTML to Text. This one's for you, Jamie at New42.
When you save an email in Modern Editor, we are now notifying you if you have included a link to a Test Page instead of a Public one. We also updated the placeholder ReCAPTCHA image on the test page itself to make it clear that form data will not be saved from test pages.
October 2020 — The Life Aquatic
Duplicate your Campaign Name and Settings
By request! You can now click Duplicate to copy your campaign name and settings. We hope this saves you time as you set up your campaigns. Thank you to Natalie Hunter at Pacific Chorale, Alison Atkinson at National Gallery, Alena Tompkins at Black Swan State Theatre Company, and Kate Pridgen at Utah Olympic Legacy Foundation.
List Management + Deliverability
To help ensure that your emails go to real addresses, we are now automatically preventing campaigns from sending to identified spam traps and addresses with invalid domains.
Invalid domains and and spam traps are also automatically filtered out when they are imported. They will appear in the "Invalid Emails, Spam Traps" tab on the List Summary page. You cannot override these addresses.
These addresses are marked with a new column when you export your import issues, segments, or subscribers in a list.
You'll also see them in the Export Blocklist file. This now means you can see all of your invalid emails addresses in one file, as requested by Patrick Griffith at KERA. To make it easier to find these addresses in your CRM, we also added a CRMSubscriberID column here, too, as requested by Jamie O'Brien at The New 42nd Street. Thanks, Jamie and Patrick!

Engagement Ratings and Scores
New subscribers who have received fewer than four campaigns will no longer have a subscriber engagement record. Previously they received a default rating of 2 stars and a score of 0. This change allows you to explicitly target New subscribers in a campaign by segmenting by Engagement Rating (or Engagement Score) is Missing. We've also changed how we calculate engagement scores. Timeouts and Out of Office soft bounces are no longer included in the calculations.
Modern Editor + Classic Editor
In Modern Editor, we fine-tuned the Width UI a bit and added a message if we aren't able to pull in the placeholder image or alt text if a hosted video is not publicly available.
Classic Editor continues on its slow journey to the sunset. For your 2.0.0 emails, we removed the View/Edit, Duplicate, and Rename options. If you're feeling nostalgic, you can still view these classic emails using the Preview button or the magnifying glass icon.
More Improvements
We've added a submenu for easier access to campaigns, results, and summaries from the Dashboard, Email and SMS Campaigns, and Campaign Activity pages.
On the List Summary page, we're now showing the total number of errors in the Data Errors tab. The detailed view still shows only the 20 most recent errors.
If we've archived sent campaigns for you in the past, you can now view the campaign results in a new rolled-up view.
September 2020 — The Kids are Alright
Text Editor
It's time for a new look! Our updated Text Editor design makes it easier to insert social icons, personalization, special characters, and links into your emails. You can now search for emoji, too. 😍 We also updated the Add Characters window with 20 new diacriticals for the Czech and Welsh languages. Thanks to Ann VerWiebe at Cleveland Orchestra and Zack French at International Violin Competition for the request.
Modern Editor
We added a new keyboard shortcut when you are in a hurry to delete blocks. You can now skip the confirmation step by holding down the Shift key when you click Delete. Thanks to Alison Atkinson at National Gallery for this feedback. We moved the Settings tab to give it more visibility. Use this tab to enter your Preview Text, learn more about the editor, or jump to the Editor Settings and Email Settings pages in the Account section.
In the Pages Editor, we made some adjustments to allow larger surveys. Thanks to John Calvi at Sydney Dance Company for your help on this one. We are also now automatically unchecking the "Required" checkbox when the Hide Everywhere option is selected.
Email Campaigns
In Segments, we made it easier to enter dates for your CrmSubscribeDate and other date format fields. We've also made a few more improvements in the Testing section. In Email Checklist, you can now download an image of your email at any width! Just use the slider to select the width, then click the Download icon. After you send a test email, we're now deselecting the addresses you had previously selected when you close the confirmation message.
A few bug fixes
We fixed up an issue where press release emails with `###` didn't display in Outlook PC as expected and an issue where links were unexpectedly underlined in certain cases.
For sending, we fixed issue where subscribers who were sent tests did not get included in segment. Thanks to Bryce Alexander at The Naples Players for reporting this.
We added a unique ID to custom blocks to help prevent possible caching. Thank you to Jen Novak at Walker Art Center and Natalie Hunter at Pacific Chorale for describing their experiences to us.

Subscribers and Reporting
Your campaign averages are now more visible inside WordFly with the new circles we added to the WordFly Dashboard. We like to watch them spin, and we hope you do, too! In Compare Campaigns, we're saving you a click by now selecting the Standard Campaigns option by default. For data exports, we fixed an issue where files for campaign names containing with special characters could not be downloaded. When you export Subscribers By List, you'll see a new Removed column, to show if addresses have been removed from the list when the email is sent. More export updates are on the way. Thanks to Justin Bowers at KERA, Lauren Frankel at YBCA, and James Heffield at Last Word Media for your feedback.
July 2020 — Joe Dirt
Email Campaigns
We've updated the email campaign testing section!
Subscriber Preview got a face-lift with an updated design, new subject line personalization preview, and more. Learn more
Email Checklist also received design updates, including a new email Preview button and the option to test links directly from this page. We also improved the Organization Name + Postal Address check. Thanks to feedback from Ryan Drumm at Museum of Fine Arts Boston and Mark Ridley at Theatre Royal Newcastle, we added the option to edit Link Names for sent campaigns! Learn more
We even added the option to download your mobile screenshot from the Emails section. Thank you to Christi Rutledge, Jessica Dill, and Jessica Klumper at Stratford Festival for suggesting this feature!
Pages
We added a new form block option to Hide Everywhere. This allows you to publish an alternative version of an RSVP or Survey page when you no longer want to collect form data but do not want to delete any previously collected data. Learn more
We also addressed an update for Pages permissions and now enforce Publish permissions on the back-end. We'd like to thank Nick Reilingh at Fisher Center for your report.
Modern Editor
We made a few updates in Modern Editor, too. In emails with dynamic images and conditional content, the option to test links in the preview Link Map tool now correctly lines up with the email preview. In a grouped custom block with hidden blocks, we're now telling you which block is hidden on mobile or on desktop. And, we're no longer encoding the double-hash for data fields inserted into Mailto links.
Reporting
In email reporting, we fixed an issue where the Heat Map didn't load when an email contained URI-encoded quotes. We'd like to thank Jennifer McGrath at Bell Shakespeare for your report!
SMS
Lastly, we fixed an issue with SMS campaigns where Testing > Subscriber Preview didn't open the mobile preview as expected.
June 2020 — Inside Out
Email Campaigns
We've updated Send a test email under your Email Campaigns > Testing tab. Now Send a test email will open a full-page section, showing more addresses onscreen, and providing an easy search option to quickly filter to specific addresses. Test away! Learn more
We also resolved an issue with Inbox Preview where results did not display in the expected order.
Modern Editor
We've added a new text style option! In text blocks and in typography style elements you'll have the option to set text-transform. This CSS element can modify your test to UPPERCASE, lowercase, Capitalize Words, or Sentence case on selected text.
Go to your Text block and use the Format dropdown to select UPPERCASE, lowercase, Capitalize Words, or Sentence case on selected text.
Go to your STYLESHEET or Styles tab to set a Text-Transform style for any typography element. Learn more about styles
We also fixed a couple issues in Modern Editor:
Addressed issue where deleted custom blocks caused the editor not to load
Fixed issue where the URL didn't display as expected in the HREF field of Link UI
Pages
Under Pages > Settings pages we added a helpful link to copy your tracked link for email campaigns. This is important if you plan to associate responses to subscribers.
We also added a Highlight Links tool to Pages editor so you can easily review clickable areas. Click on the cursor icon in the upper right corner. Thanks to feedback from Jamie O'Brien at New42, we updated the landing page for unpublished pages to only show the text, "Sorry, this page is not available." Learn more
Subscriber lists
By request! One of our most asked for additions to the list summary page was to include CrmSubscriberId in Export Issues. This is helpful for CRM integrated accounts where the CrmSubscriberId (database customer number) can be used to correlate subscribers in the database. We'd like to thank our customers who requested this feature:
Chelsea Neal at Institute for Contemporary Art VCU
Andrew Eusebio at Tafelmusik
Dan Crowell at Strand Capitol
Andrea Grigg at New York Philharmonic
Aaron Waapu at Melbourne Recital
Maeve Ashby at Australian Ballet
Victoria Ngu at Bangarra Dance Theatre
Linda Lombardi at Arena Stage
Aaron Wilkinson at Mahaffey Theater
Andrea Wang at San Francisco Symphony
Reporting
And to wrap up this release we worked on some helpful optimizations for email reporting so that line graphs load more quickly.
May 2020 — Glengarry Glen Ross
Modern Editor
Starter Emails now have a dedicated location under Design Library > Starter Emails. You can manage your custom starter emails right in the Design Library. We've also updated the Modern Editor carousel when you go to the Create New Email screen. There are now separate tabs for WordFly and Custom starter emails, larger thumbnails, space for longer names, and easy search options including filter by label. Learn more
Pages
By request! We've added CrmSubscriberID to the Pages Results CSV Export. This was one of the most asked for updates to Pages Results. Thanks for asking for this:
Jeremy Krifka at Chicago Symphony Orchestra
David Geoffrey Hall at Melbourne Festival
Thomas Chiu at Australian Brandenburg Orchestra
Jamie O'Brien at New42
Jennifer McGrath at Bell Shakespeare
Karina Kacala at Opera Philadelphia
Natalie Burrows at Houston Grand Opera
Emma Vernon at Dallas Zoo
Patrick Desgrange at Cincinnati Playhouse
Krystle Kline at Signature Theatre
Leon Tighe at Sage Gateshead
We made a few more helpful improvements to Pages Results:
You can now delete Page response data for individual people, as needed, for more accurate data. Thanks to Natalie Kovacevic at Malmo Opera for the suggestion!
We added a Show All link so you can see more text responses onscreen.
We also added column sorting to all bar graphs and updated the design to make results easier to read. Thanks to Sofia Bolin at Malmo Opera for sharing ideas.
We also fixed a few things for Pages. We fixed an issue where the sync button didn't appear as expected due to time zone differences. We also fixed an issue where the Pages CSV export questions were displayed and exported in the wrong order in certain cases, and updated the export to use UTF-8 encoding so special characters display correctly.
Subscribers
When you select a new list or add to existing list using Merge an Existing List, you can now filter lists by name or label. Learn more
Reporting
We also found an improvement in Reporting that optimizes load times for Compare Campaigns and Run Reports pages. You will find these reports will load much faster now.
April 2020 — The Fly
Modern Editor + Blocks Editor
Timesaver by request! One of our most asked for features for the Blocks was the ability to save custom blocks directly from Modern Editor. We agreed this feature would be amazing and we built it for you! In emails and pages, you can now right-click for the Save to Blocks option. Any blocks that you create will be immediately available in the Your Blocks tab in Modern Editor email and page designs. Learn more
Thank you to the following customers who requested this Blocks feature:
Chuck Macnaughton at Hartford Stage
EJ Josephat at Wexner Center for the Arts
John Sherer at New York Philharmonic
Dave (Designer) for Adelaide Symphony Orchestra

Pages
Another by request! Our customers asked for the ability to display Checkboxes and Radio Button form blocks in 2 and 3 columns in WordFly Pages. We're happy to report that this is now an option. We'd like to thank Emily Davidson at Santa Fe Opera and Max Engelsiepen at Granada Theatre for offering feedback. Learn more
Media
We also resolved a couple issues for WordFly hosted Media:
Tessitura
WordFly and Tessitura partnered together to create a solution for managing cancelled events with WordFly Pages. | Learn more
March 2020 — Extreme Ops
Pages
By request! We added some helpful updates to a survey form block for RSVP and Survey pages. Now customers can add up to 6 additional answers for survey form blocks. You can use these fields to recreate your Net Promoter Score survey or any other need. Learn more
A special thanks to our customers who requested this option:
Sofia Bolin at Malmo Opera
Sam Whyte at Wigmore Hall

We also added a cool box style to try out for survey form blocks. Start a new RSVP and Survey Page to see these new features.


While we were in Pages, we added an +Additional Note field to all form blocks to provide some more explanatory text for the field. Thank you to Jamie O'Brien at New42 for this great suggestion!
NEW - Emoji everywhere! 😍
Have you ever wanted to add an emoji to your email subject line, or text and images? While you technically always could do this, it meant copying a character from the emoji library and pasting it into your email subject line or your design. We've streamlined the process with a new Emoji picker. You'll find the Emoji link in these places:
🧡 Email Campaigns: Add emoji to your subject lines
🍕 Modern Editor: Add emoji to text and buttons
😎 Image Editor: Add emoji to your images
Modern Editor + Blocks Editor
We made several helpful updates for our new Conditions feature. We improved the drop zone to more clearly show where the condition will be added. We updated editor text to encourage you to drop new conditions at the bottom of the blocks you want them to wrap around. We also improved the message that displays when not all condition fields are selected. Give conditions a try to easily include if/then conditional blocks in your email designs. Learn more
If you're into keyboard shortcuts we've added a new one! Use the ESC key to close and cancel notification messages. Reminder: We have some other keyboard shortcuts for Modern Editor.
When you're adding embedded video in email, we added a Browse Pages link to the Video fallback URL.
Our Modern Editor email carousel has a new look! You'll see all the starter emails on screen and can easily select your own custom starters as well.
We also added a helpful update to include px when a width is entered in the Outlook PC width field.
Account
Under Account > Tessitura, you can check your integration settings and enable a few key features. We added more information and helpful links about optional features. You can start setting up preferences, triggered emails, custom screen and more features for your integration. Learn more
Under Account > Organization Info, you can set up your organization address, benchmark industry, and logo. We clarified the height and width limits for report logos so your Report > Run Reports look perfect. Learn more
Say Goodbye
We said a few goodbyes with this update 👋
Social Sharing: We removed Sharing tab and Sharing permissions for email campaigns. Removed Twitter and Facebook integration pages in Account section.
Subscriber Insights and Subscriber Profiles: The Geolocation map is only displaying now when location data is present.
Reporting: Removed the Locations tab for all campaigns.
Want to know why we remove features from time to time? Email us!
UI updates
More visual updates! We continued sprucing up the UI a bit here and there just as we did in January 2020. We adjusted grid views 25/50/100, adjusted how tall images display in thumbnail views, and refreshed the Reporting page designs.
January 2020 — Dr. Strangelove
Modern Editor + Blocks Editor
NEW! Use Conditions in Modern Editor to dynamically display content in your emails based on any info you have in a data field. | Learn more
We added a couple key features for custom blocks in Modern Editor.
By request! In Modern Editor, under the blocks tab, we added a blocks grid view to sort blocks by label or search for block names. Thank you Jen Novak at Walker Art Center and Caroline Kha at The National Gallery for offering feedback. | Learn more
Now you can rename a custom block from Design Library > Blocks and the new name will appear in the Block Name field in the Modern Editor.
Media also received a couple updates:
In WordFly editors, when selecting an image, we added a file size column to help customers select image sizes that will work best in email.
Now if email design media folders are deleted or renamed, we'll create a new folder to replace it instead of showing an error when the email is opened in Modern Editor. Note: If images were present in the email using the previous media folder name, the images will still appear as broken. You will need to re-upload them to the email or browse to the renamed folder and relink the images. | Learn more
We made the Preview Text field box in Modern Editor > Email Settings larger to help customers input more text. | Learn more
Email Campaigns
Our Testing features received a few enhancements with this release! Find all of these in your email campaigns under the Testing tab.
We added 20 new email client tests to Inbox Preview! Go to your Email campaign > Testing tab, and scroll down to Inbox Preview to take advantage of these new tests. We also streamlined the design and updated UI so you can click through previews more quickly. | Learn more
By request! The Send Test button is now greyed out if no addresses are selected. Thanks to David Libbey at American Repertory Theater for the suggestion.
We also fixed a couple issues in the testing section. Testing 1-2-3!
Under Send a test email, in the select addresses modal, adding new people to the list no longer shifts the checked positions.
Under Full Review, we fixed an issue where two sets of dynamic tags displayed and we added wrapping for long URLs.
Under Subscriber Preview, we fixed an issue Subscriber Preview would time out with an error in certain cases.
Additionally, we addressed a couple bug fixes:
Email campaigns modal: If Archive URL is not generated, now showing a Create URL button.
Email Campaign with Segment (Firefox): Fixed bug where Remove From List button didn't remove segment from list.
Account
By request! One of the most asked for features for Account > Email Settings was to allow From Names with commas. This is now supported and we love it. Thank you to all our customers who requested this feature:
David Libbey at American Repertory Theater
Sam Mende-Wong at Yerba Buena Center for the Arts
Jenn German at Strathmore
Jamie O'Brien at New42
Aaron Glynn at Joffrey Ballet
Aaron Castillo at Museum of Fine Arts Houston

We also fixed up a few other details:
Under Account > Users, we fixed an issue where new users weren't created correctly when adding one after another.
Under Account > Editor Settings, we fixed a display issue where font previews extended beyond the border in certain cases. Editor Settings help you set global color and font styles for WordFly editors. | Learn more
Under Account > Account Options, we removed the Custom Tracking URLs section. We are no longer supporting this feature due to industry-wide security changes. Email tracking links will use the default tracking domain: email.wordfly.com. No changes are required.
New year, new visual updates! We made some minor updates to old icons in the import process, removed old accordion icons, and changed orange subhead colors to blue. And, if you happen to run into an error, our updated error page provides more troubleshooting steps and an easy way to submit the incident to support.wordfly.com.
Reporting
It's time for a facelift! The Reports + Data Manager section has an new updated design to match other areas of the application. No more tabs! Use the filter dropdown to sort by export or report type, or search by name. | Learn more
Tessitura
The WordFly-Tessitura custom screen had a couple updates. The Resend button needed an update to start sending emails again. We also removed the "Remember my account and email" option on login screen due to lack of browser support. | Learn more
WordFly Status
The WordFly status page got an overhaul! Check status anytime you want to know about the current status of services in WordFly.