In this article
Custom blocks from Modern Editor
Creating custom blocks from Modern Editor
Create custom blocks in Modern Editor email and page designs by right-clicking on any block and selecting Save to Blocks.
What to expect creating custom blocks from Modern Editor:
Any blocks you create will be available immediately in the Your Blocks tab in Modern Editor email and page designs.
When the block is saved, it will only save This Block styles that are specific to the block (not General styles)
The fewer styles you add the more flexible your custom block will be in any design as the block will take on the global styles for the block type. For example, a custom footer block would use the global footer styles of the design it is dropped into.
Adding specific styles to the design will make the design more static. The custom block will use any styles set in the custom block, ignoring global styles for the design it is placed into.
To save multiple individual blocks into one block, add them inside a container, two column, or three-column block.
You can't always drag a container into a container, so be aware of this as you save blocks.
You can always build your custom block using the Blocks Editor drag-and-drop tools.
How to create custom blocks in Modern Editor
To save custom blocks directly from Modern Editor email and page designs, right-click on any block and select Save to Blocks.
1. In Modern Editor, hover over the block you want to make into a custom block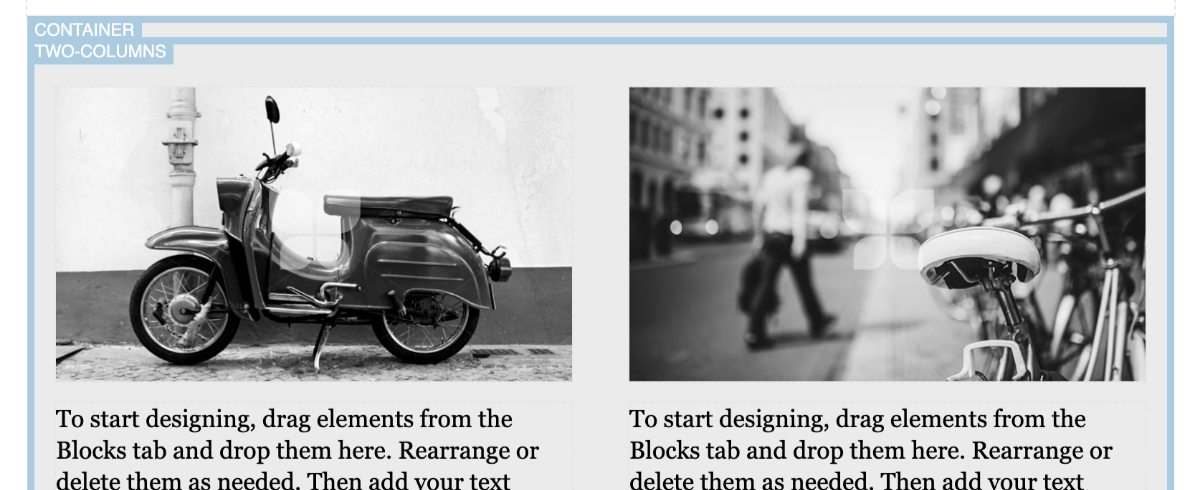 2. Right-click on the block and select Save to Blocks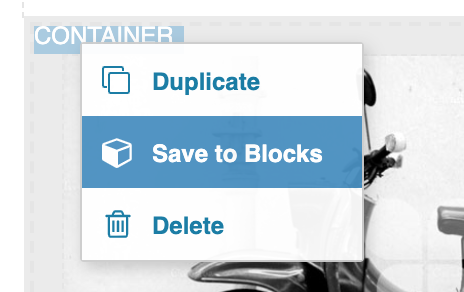 3. Your custom block is immediately available under the Your Blocks tab in Modern Editor