Use the editor to create forms, RSVPs, surveys, and landing pages that are hosted by WordFly. Link to pages from your email campaigns. Track subscriber responses in WordFly and export results.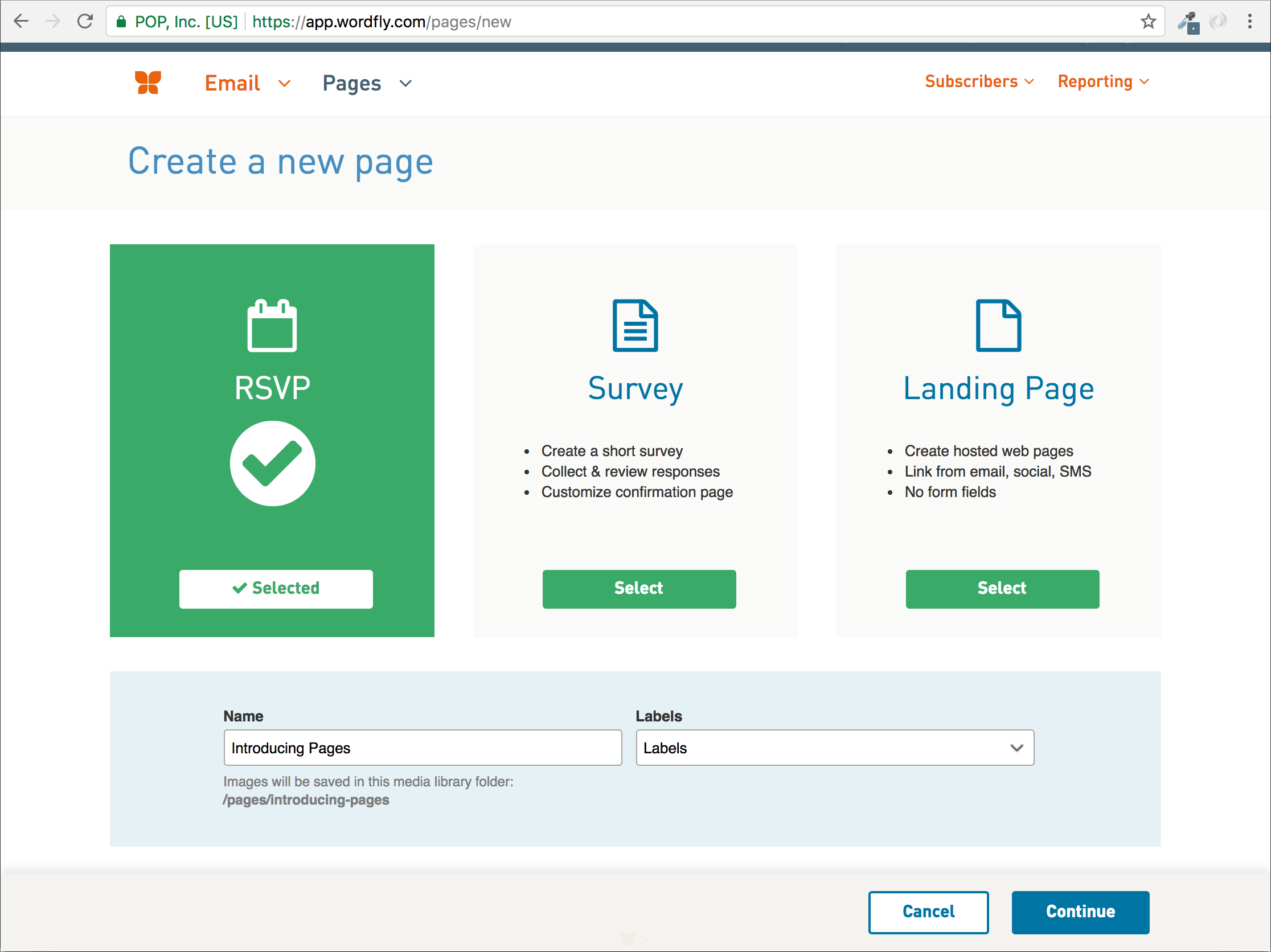 What can you create with Pages?
| | |
| --- | --- |
| RSVPs | RSVP pages collect yes and no responses to opening nights, galas, or any other event. Collect additional information from those attending. → |
| Surveys | Surveys are the perfect place to gather customer feedback. Ask customers for feedback about a show and experience, or post a questionnaire before an event. → |
| Landing pages | Landing pages are stand-alone webpages that can be used to promote special events, or other content that needs a web home. Link to RSVP and Survey Pages from Landing Pages (example). → |
| Signup pages | Encourage opt-in with beautiful and effective forms created in Pages, including a separate page for updating preferences. → |
What to expect with Pages:
For Tessitura-integrated accounts, RSVP and Survey data can be sent back to Tessitura. Learn more
Pages has three pricing plans available. A pricing plan must be selected before you can publish a page.
To track RSVP and Survey replies to specific subscribers, you must send an email through WordFly with the page tracked correctly. Use the Public URL to tie responses to subscribers for an email or to collect anonymous responses. It can be found on the Settings tab or when you click Browse Pages in the editor. Learn more
The Results tab will display responses after the pages are published. Select the download drawer at the top of the page to export your data as a CSV file. Learn more
Deleting form fields in your RSVP or Survey Page will delete collected results. This cannot be undone. Hide form blocks instead.
When pages are no longer published, a generic placeholder page will display that says, Sorry, this page is not available.
Users must have Pages permissions to create pages and Publish permissions to publish pages. Learn more
To set up styles for all pages in a set, modify design styles from Stylesheet > General Styles or All Blocks.
What is a Page Set?
When you create a new page, multiple files are saved into a media folder for that page. These are called page sets.
An RSVP Page Set consists of three HTML pages + CSS files:
Form
Confirmation–Yes
Confirmation–No
A Survey Page Set consists of two HTML pages + CSS files:
A Landing Page Set consists of one HTML page + CSS files:
HTML pages contain the code that the browser renders, and CSS files contain the styles that define the design of the pages. These files can be accessed in the editor via the HTML and CSS tabs at the bottom of the editor.
To find a Page media folder
1. Go to Pages > Media
2. Click on the Pages media folder and select Open
3. Click on the Page folder name you are looking for and select Open
In the Page media folder you can access the Page Set files, including: HTML, CSS, and any uploaded media files.
Publishing + Unpublishing
Pages must be published in WordFly to be visible to the public. Pages aren't published until you click the Publish button. Pages can be unpublished at anytime, and once unpublished, it is not visible to the public. Users must have Publish permissions to make these changes.

To publish a page
From Pages Settings, click on the Publish button to make your page set live. Confirm you would like to make your page set live by clicking Yes from the confirmation dropdown notification.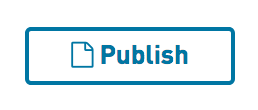 The Public URL is the URL your subscribers will see. Copy the correct Public URL to tie responses to subscribers for an email or collect anonymous responses. Any data entered from the public URL will be saved and accessible from the Results page.

To edit a published page
Once a page set is published, any edits (saved changes) will be available on your public page after clicking Sync in the Public URL section.

To unpublish a page
To disable a live page set click on the Unpublish button from the RSVP Settings page. Accessing the public link for an unpublished page will take the user to a landing page that reads: "Sorry, this page is not available." To review this page, navigate to the public URL for any unpublished page. Responses for unpublished pages will still be available in Pages Results.

Or, from the Pages library, select your page name and click Unpublish.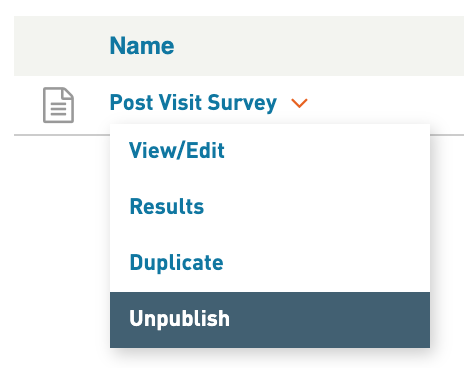 FAQs
Why is the Publish button greyed out?
It can be greyed out when:
No edits have been made to any page in the set. The essential files needed for publishing are not created on the backend until at least of one the pages has been saved.
You don't have permission to publish pages.
A Pages pricing plan has not been selected for your account.
Can I set up a custom domain for Pages?
Not at this time.
How can I A/B test a survey?
You can use WordFly's A/B email testing option to send two different surveys. First create two different Survey Pages. Then create a new email campaign. From the settings tab of the campaign, check the box I want to do A/B testing for my campaign and then select A/B test two emails. Insert one survey page link into Email A and the other survey page link into Email B.
Can I embed RSVP and Survey forms in my email design?
No. RSVP and Survey forms cannot be added to email designs. There are two reasons for this:
1. Most email clients don't support forms.
2. Most ISP filters will block an email with form code in it.
Can I embed WordFly Pages in my website?
No. WordFly Page code cannot be copied and embedded on your website. You can link to WordFly's RSVP, Survey, and Landing Pages from your website.
Can I integrate Pages with my Google Analytics account?
No. Google Analytics code involves a script tag which is not supported in the editor at this time.
Is the data collected by Pages encrypted?
Page data is not encrypted. Pages should not be used to collect sensitive information (e.g., credit card data).
Can personalization be included in Pages (data fields and conditional blocks)?
No. Only email designs can include data field and conditional block personalization.