In this article
Subscriber Profiles: Activity page

Subscriber Profiles: Activity page
The second page you can click into when you go to a Subscriber Profile is the Activity page. The activity page shows campaign and list events for the subscriber.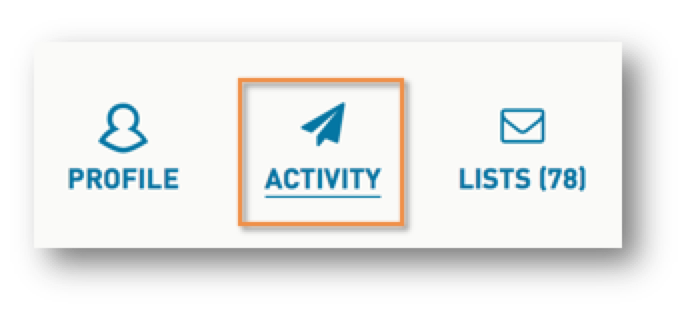 ACTIVITY PAGE INFORMATION
Activity by definition refers to any interaction the subscriber has made with your emails. This is why opens, clicks, opt-outs, complaints and bounces all appear under the Activity page. There are two sections to the Activity page: Campaign Activity and List Activity.
Subscriber Campaign Activity
The first part of the Activity page is Campaign Activity.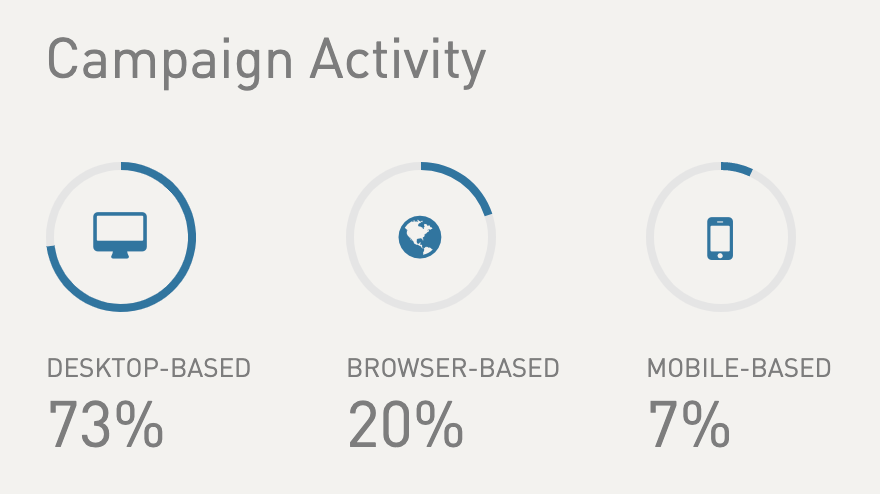 On the Campaign Activity page, you can:
Filter events by Date, Type (Open, Click, ...), Campaign Type (Standard, Triggered), Platform (Mobile, Desktop, Webmail), Email Client, or search term.
See history of cleared or overriden flagged events.
Click Campaign Name to go to Campaign Reporting Detail.
Click the campaign summary information icon to view campaign details at a glance.
View platforms where subscriber interacted with your email: Browser-Based | Desktop-Based | Mobile-Based.
View geolocation data where subscriber events occurred.
Click the View List Activity link to view organization-initiated events that occur after an address is first imported into a list.
Filter terminology
| | |
| --- | --- |
| PLATFORM FILTER | |
| Mobile | Mobile platform refers to any email client that is used on a mobile device. Example, Mobile Safari indicates the subscriber opened the email on their iPhone in the web browser. |
| Desktop | Desktop platform refers to any email client that must be be installed on a desktop machine. Example, Microsoft Outlook. |
| Webmail | Webmail platform refers to email clients accessed on the web, typically from a desktop machine. Examples include Gmail, Yahoo, Comcast, AOL and Outlook.com. |
| EMAIL CLIENT FILTER | The email client filter will show every email client the subscriber has used to open an email. Email clients you might see here include Outlook 2010, Gmail, Apple Mail and many others. |
A full history of your subscriber's flagged events can be reviewed under Campaign Activity. You can see each unsubscribe, abuse complaint or hard bounce that has been logged. When an event has an 'x' next to it this indicates the event has been cleared or overriden.


To view history of flagged events
1. Click on the Activity page
2. Change the Event filter to a specific flagged event, e.g., Opt-Out
The filter will update and will show all the Opt-Outs on record for the subscriber. including cleared and overriden events.
How can I confirm if a subscriber was included in a sent campaign?
Go to the Lists page to view which lists a subscriber is Subscribed to in order to confirm if the subscriber was included in a deployment.
Subscriber List Activity
The second part of this section is List Activity. Click the View List Activity > link to go to this section.

On the List Activity page, you can:
Filter events by Date, Type (Removal, Override), List Type (Standard, Triggered, Test), or search term
Click List Name to go to List Summary
Filter terminology
| | |
| --- | --- |
| TYPE FILTER | |
| Removals | Removals indicate lists the subscriber's address from manually removed from. |
| Overrides | Overrides indicate any lists the subscriber's address was added back to from the import issues section by overriding the unsubscribe for that list only. |
| LIST TYPE FILTER | |
| Test | Test refers to the list of addresses in your Campaign's testing section under Send a test email. |
| Standard | Standard refers to any list imported under Subscribers > Lists. |
| Triggered | [CRM integrated accounts only] Triggered refers to any dynamic list assigned to a Triggered Campaign. |
Learn more
Subscriber Profiles: Activity page