The first page you will see when you go to a Subscriber Profile is the Profile landing page. This page gives a general overview of the subscriber.
Get a summary of your subscriber's behavior. Are they active?
View and edit information about each subscriber, including the fields WordFly provides (e.g., First name, postal code) and fields that are unique to your organization (e.g., custom subscriber data fields)

Perform global actions for the subscriber. Mark them as Do Not Contact. Override a subscriber import issue. (See Subscriber's Sending Status)
Top-level info bar
Provides a summary of the essential info you need to know to identify a subscriber, including subscriber engagement rating and their sending status within the system.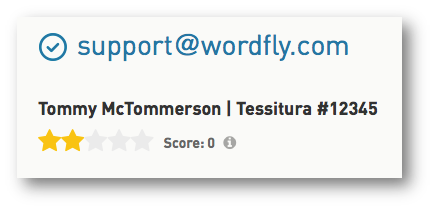 The email address or SMS number displays first since this is the personal information you use to communicate with the subscriber.



The icon to the left of the email address tells you the sending status. A check icon means the subscriber is receiving your emails. There is also an alert icon and slash icon that indicate potential issues with receiving emails. Click on the sending status icon and you can change the sending status (for example, clear an opt-out response).

You will also see the subscriber's First and Last name if this information has been imported. As a WordFly data field these are First Name and Last Name.

If you're using a CRM integration in WordFly, you will also see the CRM customer number to the right of the name. As a WordFly data field this is CrmSubscriberId.

Below the name you will see a star and score rating. As a WordFly data field this is EngagementScore and EngagementRating.

Activity bar
The Activity bar takes the user's activity across all of their campaigns and summarizes in one bar graph.
You'll see the date the Subscriber was imported. As a WordFly data field this is WordFlySubscribeDate.


The method they were imported. There are three methods for importing in WordFly: List import (csv file, CRM integration, or manual typing), WordFly Signup (subscribe page), or WordFly Lightbox Signup. As a WordFly data field the method of import is WordFlyOrigin.

You'll see the aggregate campaign rate data for the subscriber in this bar including: Open rate (green), click rate (blue), unsubscribe rate (orange), and bounces (gray).



Subscriber info section
This section includes WordFly subscriber data fields and custom data fields. All fields in this section can be edited on-screen by users except the Email field and SMS Number field. The dates to the right of the field indicate the last updated date and time.
You'll only see subscriber data fields here since this data is unique to the subscriber and will not change often (whereas 'list' data fields only reference lists). WordFly will reference subscriber data if an email uses this data field but the list did not import it.

Preferences section
This section shows the current preferences the subscriber has selected from your WordFly Unsubscribe or Subscribe pages. You'll be able to view their interests at a glance.
Preferences can be edited on-screen by users; but it is much preferred that the subscriber updates them on their own. Click Edit to change the preferences the subscriber is opted into. When the subscriber is opted in the toggle is flipped to the right; when opted out the toggle is flipped to the left.
Opted in

Opted out

Update Subscriber Profiles
You can update some details manually on subscriber records in WordFly after looking up a subscriber record. Some data like subscriber and list data fields can be updated through list imports and manually. Sending status can be updated manually if needed but should remain something the subscriber does through clicking unsubscribe or subscribing to your emails.
Information that can be updated on Subscriber Profiles:

To update subscriber data fields
On the subscriber's main profile landing page there's a Subscriber Info section that shows all subscriber data fields that have been imported. Subscriber data refers to data that is unique to this subscriber and will not be changing often. For example, First name is a subscriber data field because someone's first name will generally not change throughout their life time.
Anytime data is updated for the subscriber you will see the date to the left of the data update (this is the last updated date update). WordFly will then use this updated subscriber data for any subscriber data fields in your correspondence.
Unique identifier subscriber data like email and SMS number cannot be updated.

To change data for subscriber data fields
Under the Subscriber Info section you can update any data imported for a subscriber by clicking Edit and then entering new data and clicking Save at the end of the page.
1. Click Edit
2. Change any of the subscriber data fields
3. Click Save
Your updates to the subscriber data fields are saved for this subscriber. To make changes to 'list' data fields, click on the Lists page icon to edit List data.
Update subscriber sending status
You can update a subscriber's sending status from the profile landing page. We created an article that explains what the subscriber's sending status is and how you can update it from the profile landing page. Learn more, Subscriber Sending Status.
Learn more
Subscriber Profiles: Profile landing page