When you send email or SMS campaigns through WordFly, the links in your email are converted into tracking links. This enables every click from a subscriber to be recorded in the Reporting results for the sent campaign.
Tracking on email links
Every link in your WordFly email is processed by our tracking service while it is being sent to your subscribers. The final link in your sent email is now a tracking link that is unique for the subscriber that received it. This enables us to attribute clicks to specific subscribers in Reporting. Click on the magnifying glass under the Clicks tab to see who clicked the link.
View in Browser link example:
LINK STATUS
EXAMPLE OF LINK
In email

When the View in Browser link is added to your email, it looks like this:

https://e.wordfly.com/view?sid=##subscriberMailingId##

In sent email



When the email is sent, the link is converted to a tracking link, unique to a subscriber, and looks like this:

https://e.wordfly.com/view?sid=MTVfMjExNl8xMzY3XzcxMDU
Invalid links cannot be tracked
Only valid links can be tracked by WordFly. Valid links contain `http://` or `https://` at the front of the link and do not contain breaking spaces. You will not see click Reporting results for invalid links.
| | |
| --- | --- |
| LINK STATUS | EXAMPLE |
| Valid link | https://www.facebook.com/WordFly/ |
| Invalid link | facebook.com/WordFly/ |
Tracking link processing issues
Sometimes there can be issues with links being processed. This can either be a WordFly issue (check our WordFly Status page for any known issues) or can be an issue with processing that particular subscriber information. When link processing issues occur the end user will likely see a page like this:

Remove tracking on email links
There might be occasions where you do not want to run your links through WordFly tracking or see specific link click data in Reporting after your email is sent. You can turn off tracking on any links as needed under your Campaign > Testing > Email Checklist.
To turn off tracking on links in your email
1. Go to Email > Email Campaigns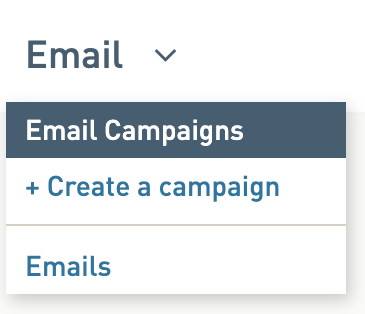 2. Select the name of your in-progress email campaign
3. Select the Testing tab in your email campaign
4. Click the Email Checklist button

5. Uncheck the box to turn off tracking

6. When done, select Save
Now when you send your email campaign these links will not be tracked. Any links that were still checked will continue to be tracked.
Tracking on SMS links
(Only for accounts with SMS services enabled)
Links inserted into SMS messages are also processed through the WordFly tracking service.