Using video in marketing channels is a smart way to connect with people. Add an embedded video to your Modern Editor email and page designs.

Topics covered in this article:
Email client support for embedded video
Adding video to your design using Modern Editor
How does embedded video work
Videos can play directly in the email and web pages all thanks mostly to HTML5. HTML5 is a new standard for the internet that allows web developers to easily add neat stuff like audio and video to website and now emails. 
Hosting your Video

Your must host your video in a publicly accessible folder. For example, you can host your video on your website or in a hosting service that allows public access to video files outside a media player. This is important to note because services such as Dropbox and Google Drive utilize their own player to avoid hosting video files for HTML (websites or emails). WordFly's media library cannot host video files.
Video Versions
It's important to upload the correct video format that is requested in the template video embed tool. Do not add video links to YouTube, Vimeo or other video hosting sites for your mp4 and other video versions.
Video format support
| | | | |
| --- | --- | --- | --- |
| BROWSER | MP4 | OGG/OGV/THEORA | WEBM |
| Android | Yes |   |   |
| Chrome | Yes | Yes | Yes |
| Firefox |   | Yes |   |
| Internet Explorer 9* | Yes |   |   |
| iOS | Yes |   |   |
| Opera |   |   | Yes |
| Safari | Yes | Yes | Yes |
*Earlier versions of IE do not support embedded video
Email client support for embedded video

We must admit that we are bit a head of the curve on this one. Not every email client will support embedded video. In these cases, the subscriber will see a fall back image and a link directing them to watch the video on your website, Youtube or Vimeo.
iPhone's running iOS 10+ do support video in email! However, predecessors iOS 8 and iOS 9 do not support it (the video and the fallback link don't work either - yep, it's a bug!). Apple Mail also supports it.
| | | | |
| --- | --- | --- | --- |
|   | EMAIL CLIENT | SHOWS VIDEO | SHOWS IMAGE |
|   | Apple Mail | Yes on desktop and iPhone's running iOS 10+. Not on iPhone's running iOS 8+ (see note above) |   |
|   | Lotus Notes |   | Yes |
|   | Outlook (PC) |   | Yes |
|   | Outlook (Mac) | Yes* |   |
|   | Thunderbird | Yes * |   |
|   | AOL Mail |   | Yes |
|   | Gmail |   | Yes |
|   | Hotmail | Yes* | Yes** |
|   | Yahoo Mail |   | Yes |
|   | Android |   | Yes |
|   | Blackberry |   | Yes |
|   | iPhone, iPad | Yes |   |
 *requires right-click to play
**Older browsers show the fallback image
Adding embedded video to your design
Follow these steps to add an embedded video and appropriate fallbacks in your Modern Editor design.
1. Open your design in Modern Editor.
2. Drag over a video block to your preview panel (right side).

3. Toggle to Embedded.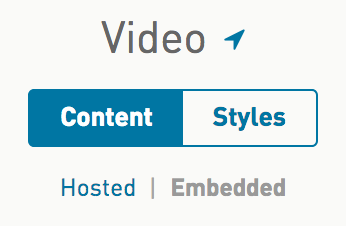 4. Start adding in your embedded video links and poster/fallback images on the edit content panel (left side).
Type in the URL's for the various formats. For more information on which email clients and web browsers support which types of video formats please review the previous sections that covers support. You don't have to create all three versions of your video but you'll get the best support if you do. 
There are two separate image fields for embedded video: Poster and Fallback.
The Poster image is what displays for email clients and browsers that support embedded video. If a poster image isn't selected the first frame of the video will be used as a poster.
The Fallback image is what displays when for email clients and browsers that do not support embedded video. Upload the same image as your poster image or make a separate image for this element. It's up to you!
Tip: If you paste in the full YouTube or Vimeo link the editor will automatically add your video thumbnail and alt text from the link you used (note, the shortened "share" link will not work).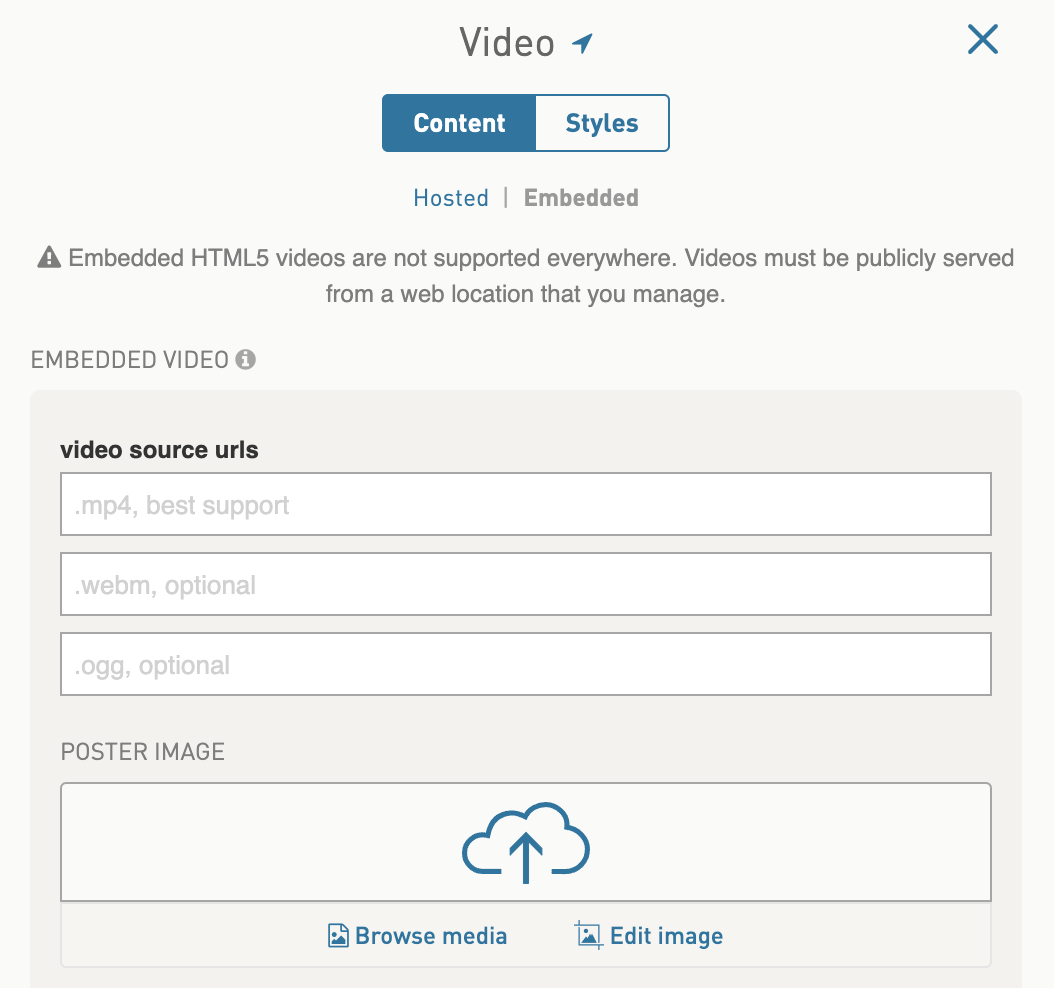 4. Save your design.