You can add an unsubscribe link to any email you send from WordFly. This is important because every email sent from WordFly must have a way for the subscriber to quickly and easily unsubscribe. 

Topics covered in this article:
Adding Unsubscribe to your email
Learn more about unsubscribes in WordFly
Adding Unsubscribe to your email
First, copy your dynamic unsubscribe link! Follow these steps:
1.  Go to Subscribers > Dynamic tags.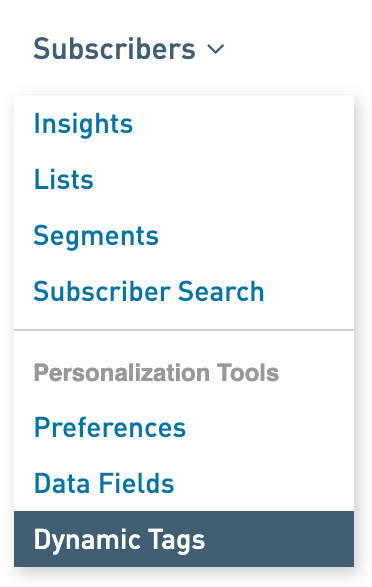 2. Filter by Type to bring up the links. Copy the dynamic link for unsubscribe.

Unsubscribe is a default dynamic link that will always be available in your dynamic tag library. Copy the link to a notepad document for easy access later.


Here's the link: http://tracking.wordfly.com/unsubscribe?sid=##subscriberMailingId##
Second, add the link to your email. Follow these steps:
1. Open your email in Modern Editor.

2. On the email preview panel, click on the text block where you would like your unsubscribe link to go.


This will bring up the Edit Content panel on the left side.
3. Type in your unsubscribe text (such as "Unsubscribe"), highlight the typed work and select the link icon.

4. Paste in the dynamic unsubscribe link in the URL field. Click I'm Done when finished.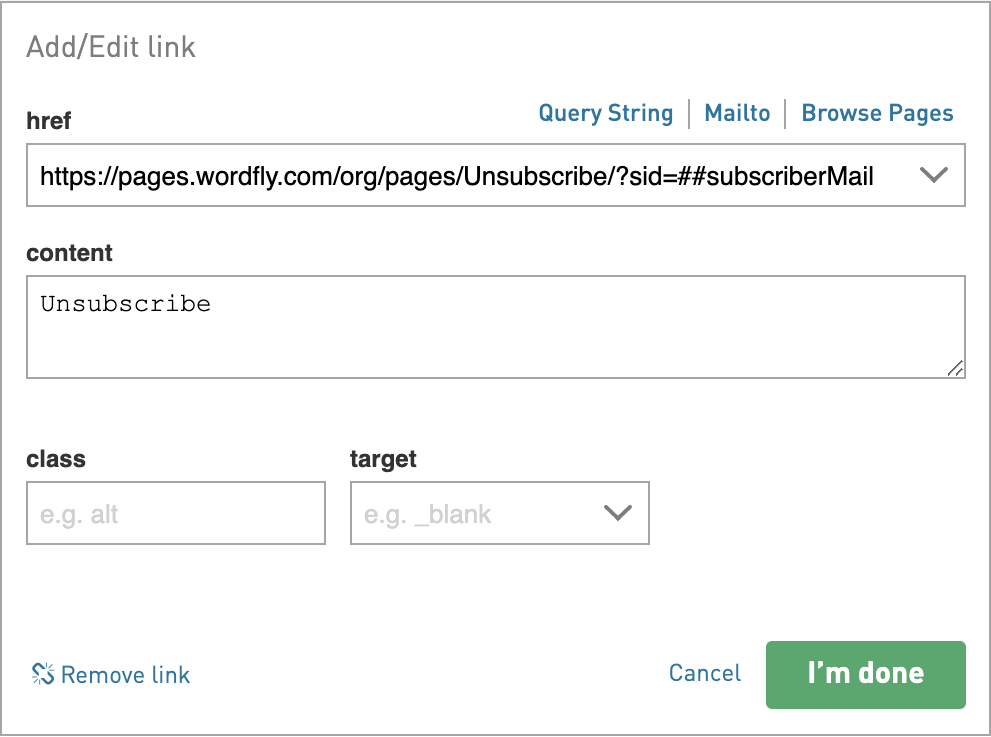 Repeat steps 6-8 for adding the unsubscribe link to another text block area in your email!
Learn more about unsubscribes in WordFly
How do I add an unsubscribe link (to my email)?
How do I set up my unsubscribe landing page?
Can I send an email without an unsubscribe link?
How do I manage unsubscribes and hard bounces in my lists?
Export data: export unsubscribes, abuse complaints, and hard bounces (by campaign or account)
How do I re-subscribe an unsubscribed address?
Best practices for your unsubscribe link and landing page