Triggered emails allow you to immediately communicate with your patrons in response to any action in Centaman. Use any list in Centaman to define who should (and shouldn't) receive your campaigns. WordFly will automatically send personalized welcome emails, reminders, membership confirmations or expiration warnings and more.
How to …
There are three parts to a Triggered Campaign in WordFly:
Who should receive the email?
What will they receive?
When should it be sent?
This post will illustrate these three steps by walking through the process of creating a Triggered membership expiration email.


Our example email will dynamically display content for the subscriber's name, the type of membership and the membership expiration date. We'll set up the campaign to send a weekly email to all customers who have memberships expiring this month.


1. Go to Email > Create a campaign.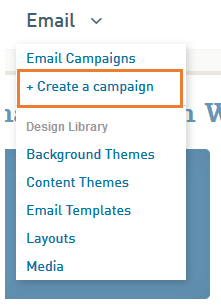 2. Under Settings, from the type drop-down, select Triggered.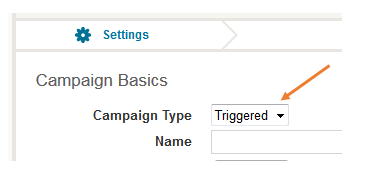 3. Under the Template section, select the Template you would like to use or create a new one.
Since this email will have personalization in the body of the email we need to include data fields. Be sure to add any specific data fields or dynamic tags for your email. Learn more about data fields by reviewing this post. In this email we will be including the following data fields:
First Name
Membership type
Membership expiration

4. Under Recipients section, assign the list you will be using to the Campaign.
This step is a little different from a Standard Campaign in that you won't be importing any subscribers just yet. Triggered Campaigns are designed to import subscribers at the time of sending.  For these emails you will only be assigning the list that WordFly will use each time the Campaign is scheduled to send.
All Centaman lists are dynamically updated when imported into WordFly. This means you can select any Centaman list for a Triggered Campaign and it will always be updated with the latest subscribers who meet the list criteria. For a member expiration email, we will select the query 'member due to expire in 60 days'.

During the list assignment step you will also 'map your fields'. WordFly will map as many as possible but then it's up to you to make sure to map other data fields. The most important one to map is Email. For this Campaign we will need to make sure to map Membership type and Membership Expiration data fields in WordFly to the appropriate list data in the Centaman list.
In order for responses to track back to Centaman, be sure to map:
'sourceID' from your list to 'SourceNumber' in WordFly
'member_code' from your list to 'CrmSubscriberId' in WordFly

Select "I'm done" and then "Continue" to finish assigning your list.
5. Test your Triggered Campaign.
Under the Testing tab, use Subscriber Preview to test a subset of your subscribers and to make sure you have all the correct personalized data pulling into the Template.


6. Under the Activation tab, schedule your Triggered Campaign for sending.
You can select a date to start sending or start sending now. You can send to a subscriber each time they are imported, or you can send to a subscriber one time only. You can send the Campaign hourly, daily, or weekly.

7. Select "Activate" to schedule your Triggered Campaign.
Once you select "Activate" your Triggered Campaign will be scheduled to send for the first time. The Campaign will only send to subscribers that meet the list criteria at the time of sending. Once the Campaign sends it will be rescheduled to send again at the same time at the frequency you set it to send each time.
Notes about activated Triggered Campaigns:
You can edit your Template in an activated Campaign anytime by going to Emails > Email Templates. Make your edits and save your Template. WordFly will always use the latest version of your Template without having to pause the Campaign.
You can see your sending history anytime under the Activation tab > Sending history.
You can see your next scheduled deployment anytime under the Activation tab > Sent.
You can review any import history under Recipients > List history.
8. Once the Triggered Campaign is running, select "Pause/Edit" to stop it from sending.
If you need to stop or pause a Triggered Campaign in WordFly you can do this easily from the Activation tab.
Click on the Activation tab of the Triggered Campaign.

Scroll down to the end of the page and click Pause/Edit.
When the Campaign is Paused:
Triggered emails will not send for the Campaign.
You can click on the Recipients tab and re-assign your list.
You can click on the Template tab and assign a new Template by clicking 'start over' next to the Template name.
You can click on the Settings tab and update the subject line and other options for the Triggered Campaign.
To reactivate the Campaign go back to the Activation tab and update your frequency settings then click Activate to continue sending these emails.