The standard Tessitura Extraction output includes segment ID which is the ID number of the segment to which a constituent was assigned.
You can use segment ID for setting up conditional statements in WordFly for versioning based on a data field.
Example:
Subscribers with segment ID 123 would get message A.
Subscribers with segment ID 1234 would get message B.

Create a Data Field in WordFly called "segment ID"
Follow the steps in this post to create a new Data Field called "segment ID".

Mapping segment ID in your Tessitura list import
1. Go to Subscribers > Lists.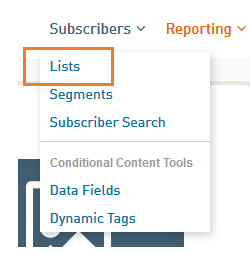 2. Select Create an email list.

3. Select Use a Tessitura List.

4. Select Use an Extraction list

5. Give your list a name and then select your extraction from the available list ID's
If you can't find the one you want double check the list is in Tessitura, remember to "Refresh" the data if anything changes in Tessitura.

6. Select a Download
7. Map your fields, as many as you can...
WordFly will map as many as possible but then it's up to you to make sure to map other data fields. The most important ones to map are Email, Download Number and Customer Number. And in this case, you will also map your segment ID.
Segment ID in your list is "ka_no".
8. Click Start importing.
---