Create custom email response codes for the Tessitura integration. This is particularly helpful for consortiums to ensure each organization's responses are separate.
Set up new email response codes in Tessitura
Tessitura has default email response codes and allows new email response codes to be set up. In this section, we will review the default email response codes available and how to set up new email response codes.
Default email response codes in Tessitura
Tessitura has a set of five default email response codes: Open, click, hard bounce, soft bounce, and unsubscribe. These values are defined in TR_EMAIL_RESPONSE_CODE and have a subset of values in TR_RESPONSE.
Default values for email responses
TR_EMAIL_RESPONSE_CODE
TR_RESPONSE
Open
1
9
Hard bounce
2
11
Soft bounce
3
12
Click
4
10
Unsubscribe,
Abuse complaint
5
13
Shown in the 'response' column of T_EPROMOTION_ RESPONSE_HISTORY
Shown in the 'response' column of T_PROMOTION
How to set up new email responses codes in Tessitura
Create new email response codes when you want to process responses that are not part of the default. For example, set up a new email response code for abuse complaints. Or, setup unique email response codes for consortium members.
In Tessitura ...
1. Go to System Tables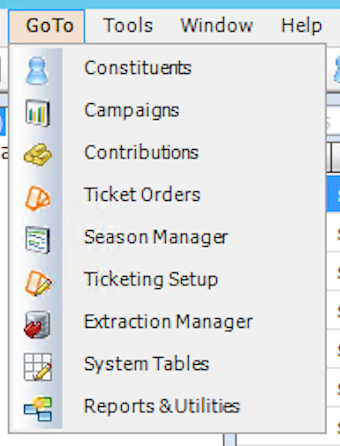 2. Search for TR_RESPONSE. Select this table.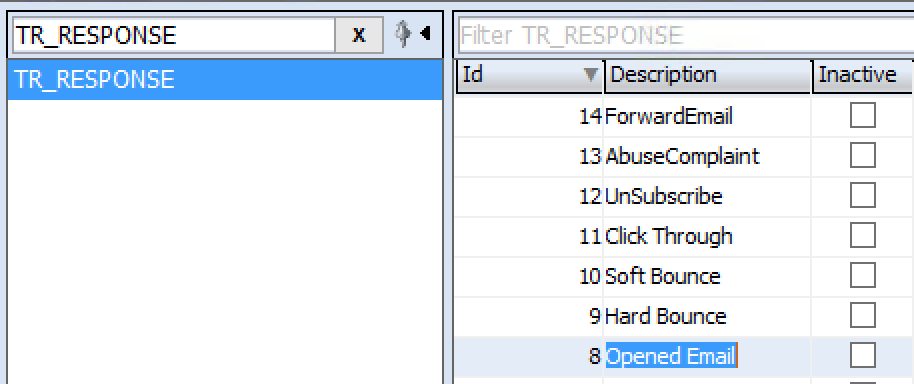 3. Select Add to add a new email response
For example, add abuse complaint or add forward to a friend. Or, add a new set of email responses (open, click, unsubscribe etc) for consortium members.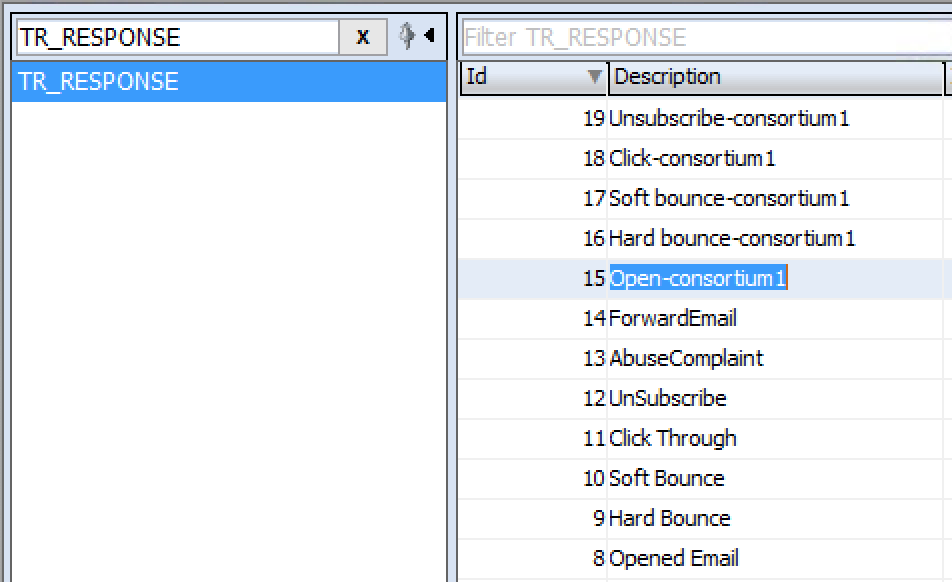 4. Save your updates to TR_RESPONSE

5. Search for TR_EMAIL_RESPONSE_CODE. Select this table.

6. Select Add and add each new email response to this table

7. Reference the corresponding TR_RESPONSE value to each new response added to TR_EMAIL_RESPONSE_CODE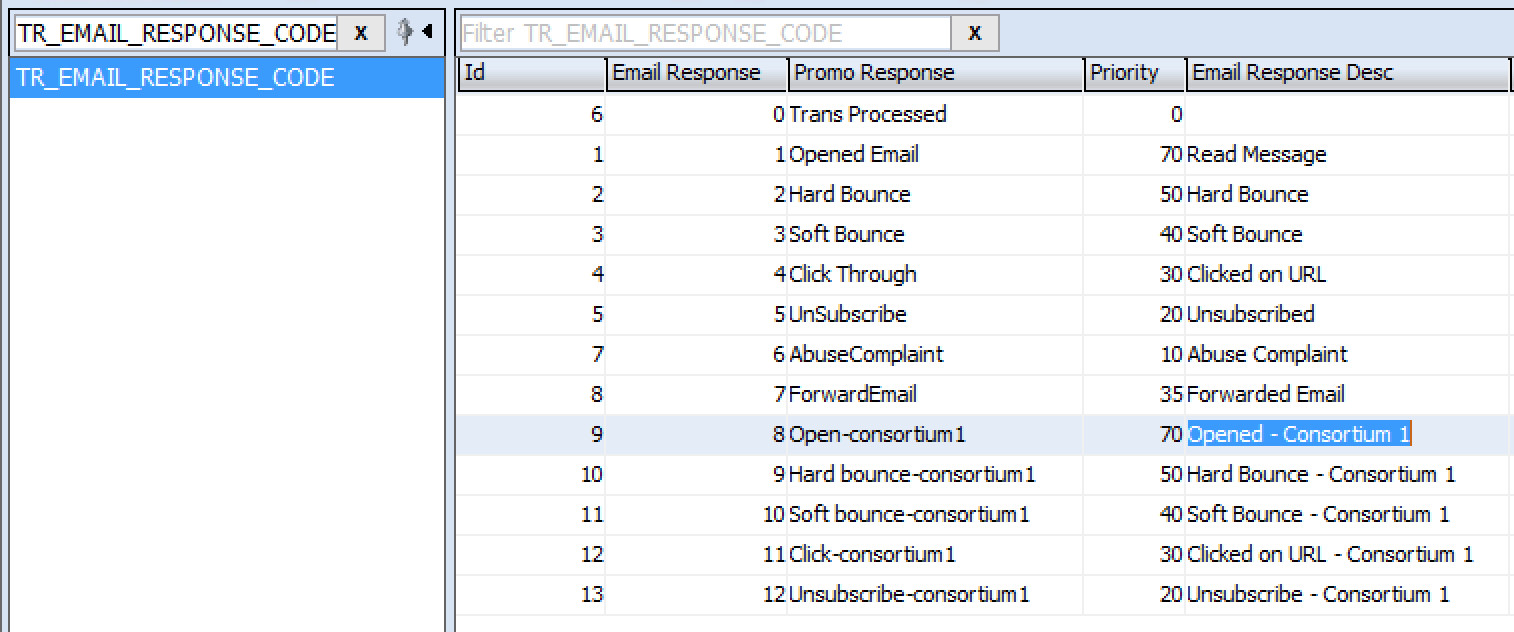 8. Save your updates to TR_EMAIL_RESPONSE_CODE

9. Export the TR_EMAIL_RESPONSE_CODE table or take a screenshot
In WordFly ...
WordFly has to update your account or consortium member accounts to use the appropriate email response values from TR_EMAIL_RESPONSE_CODE. Please email us the new email response values.
Example screenshot of TR_EMAIL_RESPONSE_CODE showing the values a consortium might setup for two consortium members holders. WordFly configures the Email Response (email_response) value for each account.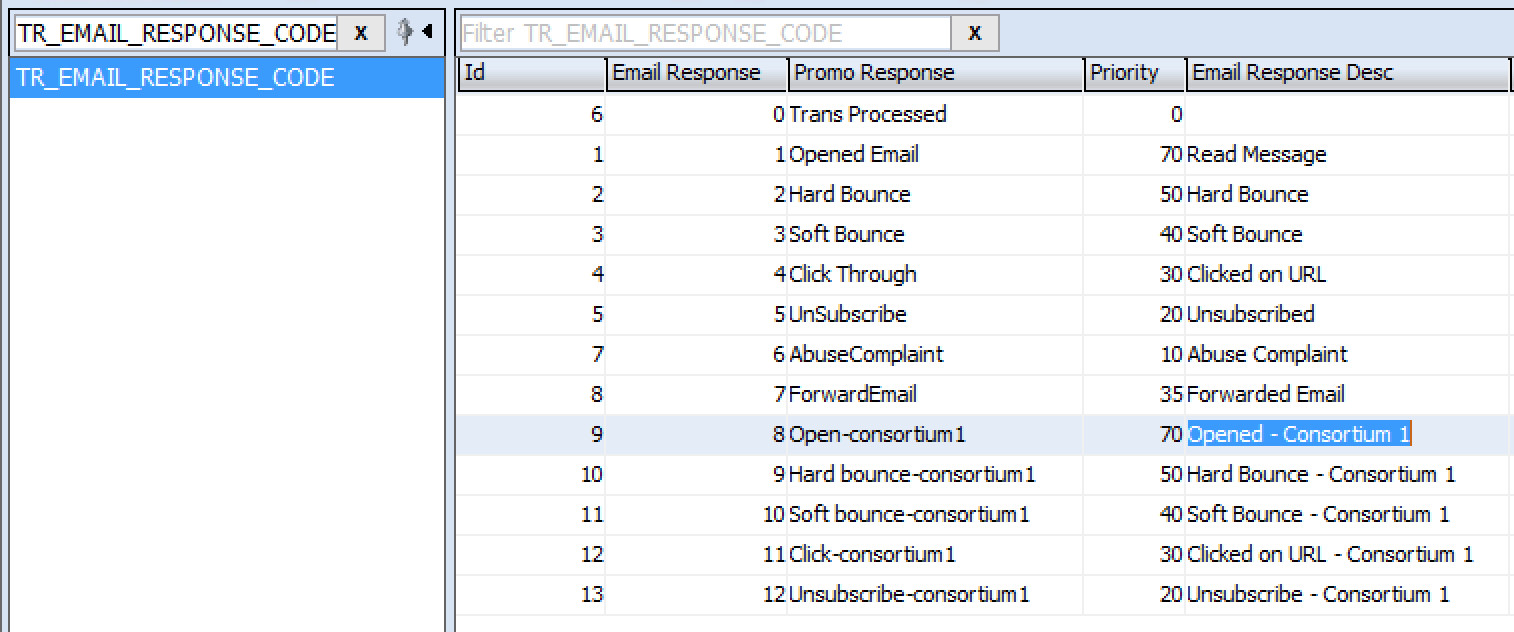 Varying email responses for consortiums
There are a couple ways you can vary responses for consortiums so that unsubscribes, opens, clicks and bounces are all logged correctly for each member.
You can use Source Group or Media Type to differentiate responses for an organization. You can also use Organization to separate responses. One of the easiest ways to handle responses is with separate email response codes for each consortium.
Once you decide how to proceed, customize the LP_UPDATE_EMAIL_PROMOTION stored procedure to handle email responses for each consortium uniquely. Note: preference updates are handled by a separate stored procedure.
If you do use custom responses for each sub-licensee, WordFly will need to configure the accounts to use those responses instead of the defaults. Review the first section of this article to learn how to set up new email response codes.