In June 2021, we launched a new way to set up your Unsubscribe page. Learn more
In this article
Enable one- or two-step unsubscribe
Customize the branding of your Unsubscribe page
Add the Unsubscribe link to your email
The Unsubscribe link is required in all of your WordFly emails. This is not only part of our Acceptable Use Policy that all users must agree to, it is also US and Canadian law. Make sure you have your Unsubscribe landing page set up in WordFly and that you have the dynamic Unsubscribe link added to all your email designs.
When a subscriber clicks the Unsubscribe link in your email, they'll see the basic, non-branded page that comes standard with WordFly. This page lets them know they have been unsubscribed from your list. Before branding your unsubscribe page, decide if you would like to use the one-step or the two-step unsubscribe. Make sure you're following best practices for your Unsubscribe page as well.
Enable one- or two-step unsubscribe
Decide if you would like to have a one- or two-step unsubscribe process. One-step will unsubscribe a subscriber with one-click on the unsubscribe link in their email. Two-step will take the subscriber to a new landing page after the first click, at this point the subscriber can modify their email preferences or confirm their unsubscribe. If a subscriber lands on the two-step unsubscribe page they will see boxes checked for any preferences they are signed up to receive and unchecked boxes for any preferences they can sign up to receive.
1. Go to Account.

2. Select Unsubscribe Options > Settings.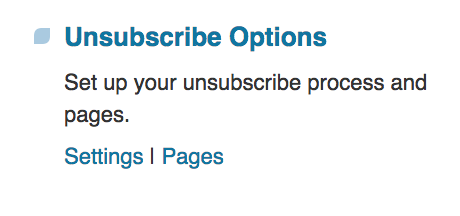 3. Select the unsubscribe option you would like to enable.
Two-Step Unsubscribe has the option of displaying Preferences on the unsubscribe landing page. Preferences allow subscribers to modify the email lists they are receiving.
*Are you a Tessitura-integrated WordFly account? Learn more about setting up preferences.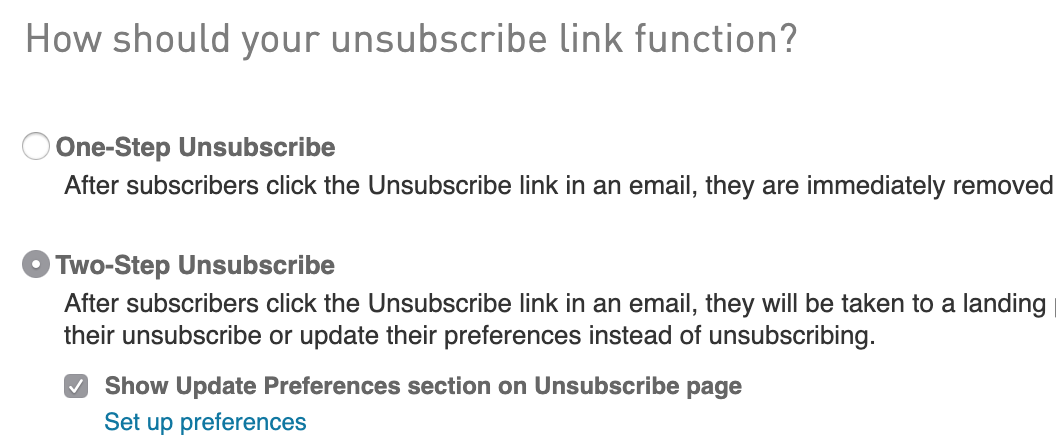 4. Save.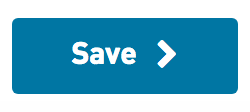 Customize the branding of your Unsubscribe page
1. Go to Account.

2. Select Unsubscribe Options > Pages.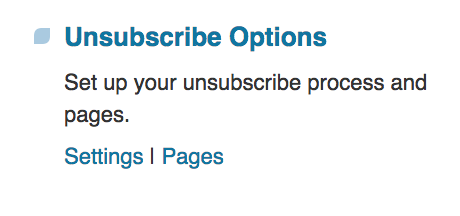 3. Customize your page
Here are some things you can do:
Hover over the text areas to update the content.
The default banner image can be removed and replaced with your own banner image. The image should be exactly 600x125 pixels.
Add a Content Theme to customize the fonts and text colors on your pages.
Add a Background Theme to customize the background colors of your pages.
For one-step unsubscribe there will be one landing page to customize. For two-step unsubscribe, there will be three pages to customize as shown in the example below.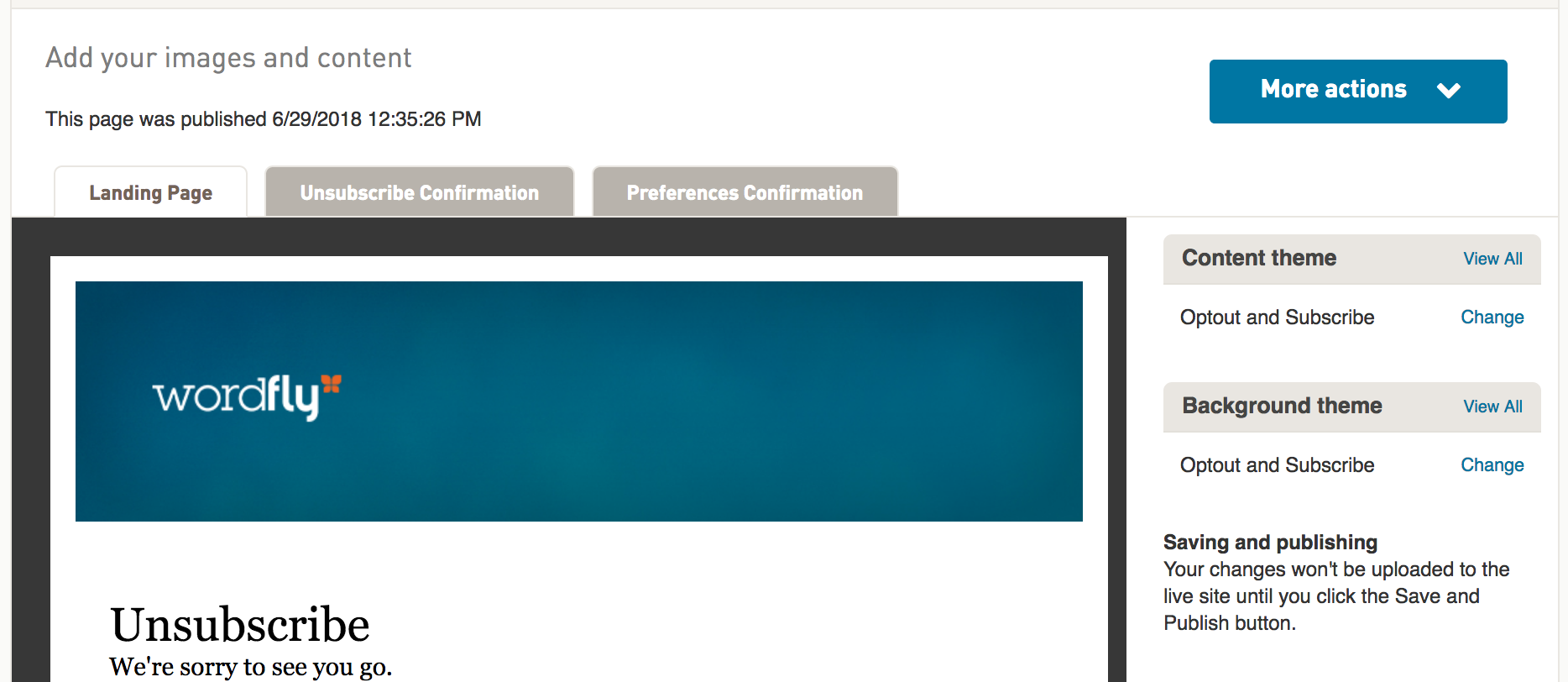 4. Click "Save" to save your changes.
5. Select "Save and Publish" at the end of this page to make your updates live to subscribers immediately.

Refresh the page to see a date/time stamp of when you published this page. If you have selected two-step unsubscribe you will have 3 pages to 'Save and Publish'.
If you ever need to go back to the WordFly default design, select Revert to Default in the More Actions menu. It will automatically be published.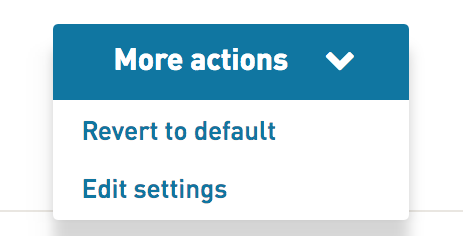 Add the Unsubscribe link to your email
Use this URL in your emails to allow people to unsubscribe.
https://e.wordfly.com/unsubscribe?sid=##subscriberMailingId##
Note: The link won't work if you browse directly to it. The link only works when it is sent to a subscriber via a test email or live email campaign.
Learn more
How to add Unsubscribe, Forward, and View links
How do I set up my Unsubscribe page?
Can I send an email without an Unsubscribe link?
How do I manage unsubscribes and hard bounces in my lists?
Export unsubscribes, abuse complaints, and hard bounces (by campaign or account)
How do I resubscribe an unsubscribed address?