Export email campaign event data such as opens, clicks, unsubscribe, soft bounce etc.

Topics covered in this article:
What to expect with the event data exports
How to export campaign event data
Learn more about exporting data
What to expect with event data exports
The event data export gives you the ability to include subscribers who DID have events or to exclude subscribers DID NOT have events. WordFly will include or exclude subscribers based on the event information selected.
| | |
| --- | --- |
| DID vs DID NOT | EXPORTS |
| DID | DID events exports will include subscribers and their respective events. |
| DID NOT | DID NOT events exports will exclude subscribers who did not have the selected event data. |
| DID & DID NOT combined | When DID and DID NOT events are combined, the DID NOT subscribers will be excluded from the export. |
In order to export a list of subscribers who did not have an event, such as opens or clicks, you can use WordFly segmentation in a new email campaign. Go to Emails > Email Campaigns and select to Create a campaign. When you get to the Subscribers tab, assign a list and then use the More list actions dropdown to select Segment your list. You can use the on-screen options to segment by events (did open, did not open, did click, did not click). Once you have your list segmented you can export your segment or send to the segmented list.
How to export campaign event data
Follow these steps to export your campaign event data in WordFly:
1. Go to Reporting > Export Data.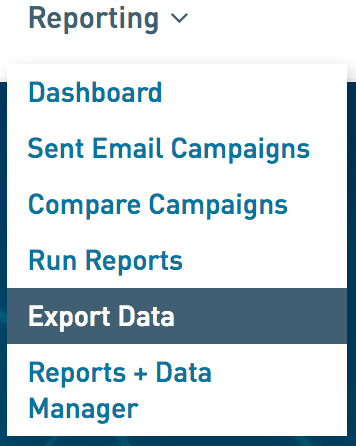 2. Under section 1, select Events by Campaign. Then click I'm Done.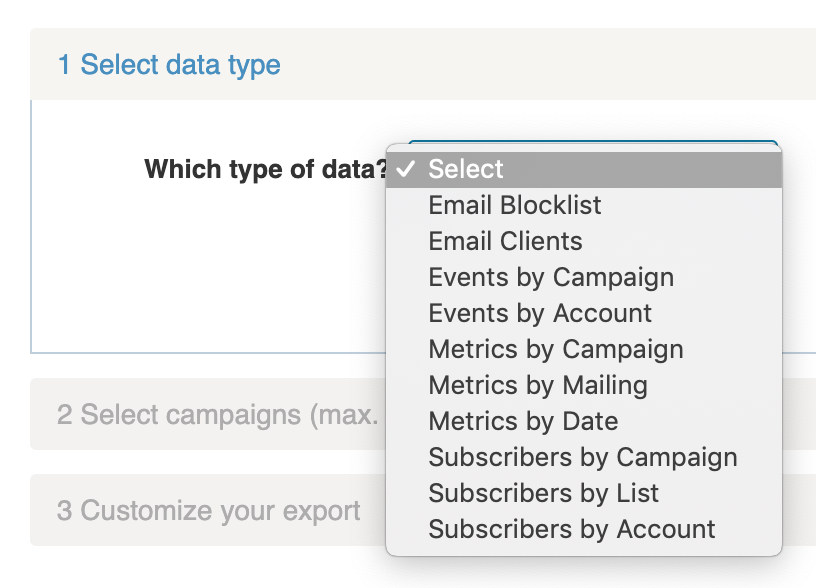 3. Under section 2, check the campaign(s) you would like to review. Then click I'm Done.
You can export up to 50 campaigns at a time.
4. Under section 3, select the data you would like to export for the selected campaign(s) and adjust the date range. 
The date range will default to the send date of the first campaign selected and the date of the last response of the most recently sent campaign selected.

 5. Then click Start export.

Learn more about exporting data
Export data: campaign event data (did open/click etc did not open etc…)