Calendar reminders are a great addition to your email design and help subscribers save important dates to their digital calendars.

Topics covered in this article:
Add your event reminder to your email template (Classic and Modern email)
First, create your event reminder
Our examples are from Outlook since most organizations use this email client for their internal emails. This type of calendar reminder is an ics file will work across all devices and platforms.
1. Create a New Appointment.

Fill our the appointment with all the applicable event information.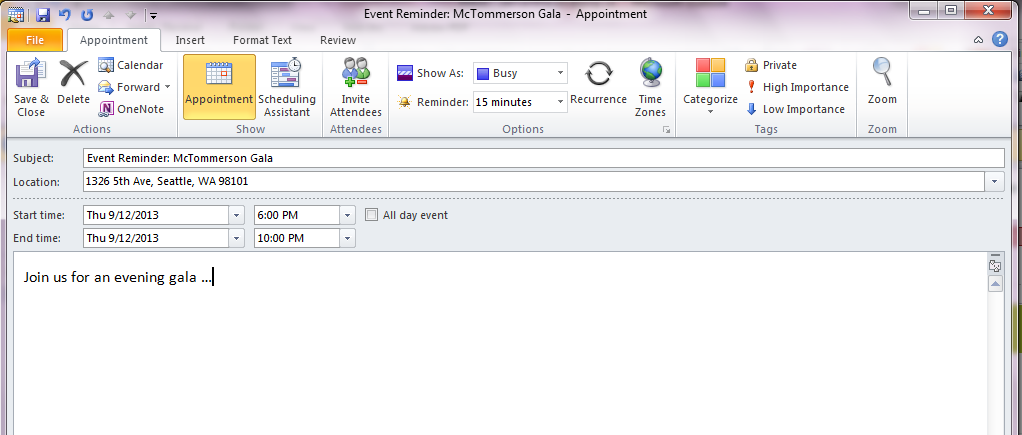 2. Under Save As, select Save As type "iCalendar Format (*.ics)".

This defaults to "Save Selected Appointment", make sure to have this radial selected so that you aren't saving out your entire calendar.


Tip: It's best practice to avoid spaces and special characters in your file names.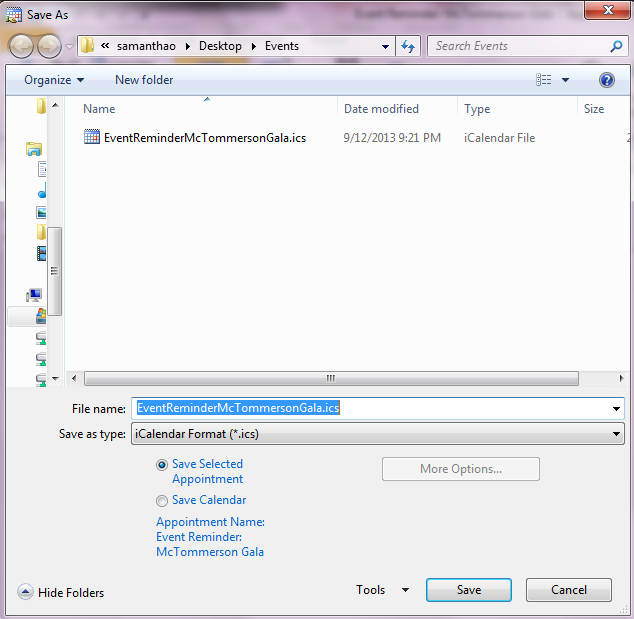 Second, host your saved .ics file.
Host the saved .ics file on your web server or in another publicly accessible location.
Example, http://www.wordfly.com/_media/WordFlySchoolReminder.ics
You can also upload your file into WordFly's Media library.  Follow the steps in this support post to learn how to upload a new media file. Copy your calendar file link from your media folder.
Third, update your Email template with the link to your hosted calendar file.
In your email design, add your calendar link it to an image area or to a text link.
1. Open your email in Modern Editor.
2. Click on an image block in your email.
This will bring up the edit content window on the left panel of the editor.

3. Insert your calendar link in the "href" field.

You can also add a calendar link to Text areas of your email design. There are two options to add your image in a text editor. Click on any text block to open the Edit Content window on the left panel.
In the text editor, highlight a word or image, then select the link icon to add the calendar link address.
Or, select the HTML button to add your calendar link directly in the HTML code. Your link code will look like this example: "<a href="http://www.wordfly.com/media/WordFlySchoolReminder.ics">