Convert your HTML email to text
1. Finish your Modern Editor email and click Exit to leave the editor.

2. Click the "Convert HTML to Text" link.

3. A version of your email will appear with the HTML stripped out, leaving only the text.
You should make a few edits here and double-check that everything is correct.
Any text from your HTML version wrapped in headline tags (<h1>, <h2>, <h3>, <h4> etc) will copy down in ALL-CAPS. This is by design.
Double-check that you've included your

unsubscribe link

and

organization name address

. These elements are still required in the text version!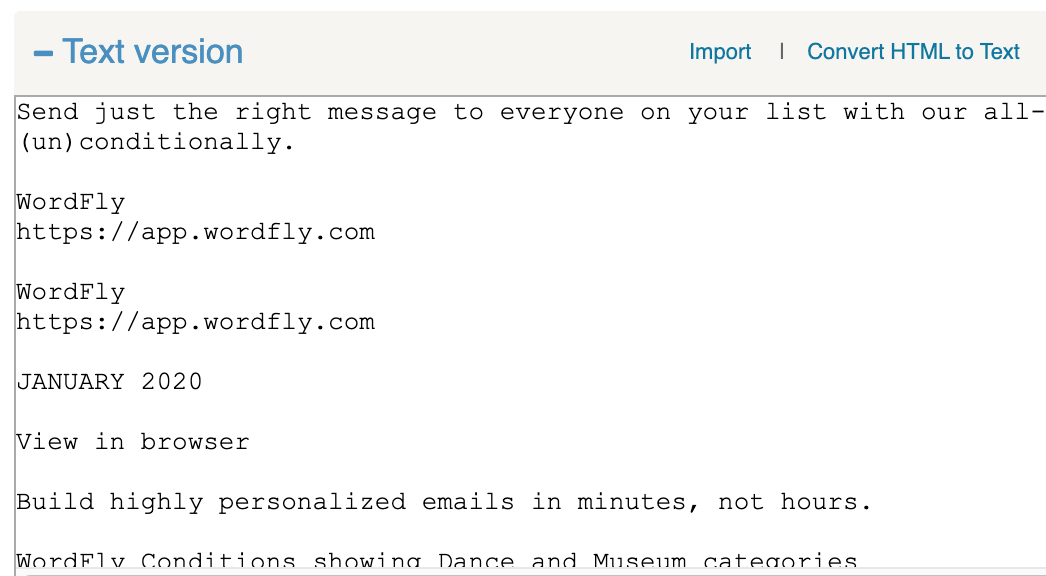 4. Then click Save
You must Save your Text version to save the email.
Importing the text version of your email
1. From the email page, click Import

2. Click "Choose File" to browse to your text file on your computer
3. Click the green Import button
Your text will be inserted in the Text Version box. You'll want to read through it and add line breaks and dividers as needed. You can also add data fields to personalize your email with custom content.