No, you cannot send an email through WordFly without an unsubscribe link.
Sending an email without a valid unsubscribe link or your organization name and business address violates the WordFly Terms and Acceptable Use Policy as well as United States CAN-SPAM law and Canada's CASL law. It can also cause you heartache in the deliverability department.
You don't have to use the unsubscribe link provided in WordFly, but you do need to have some method that allows people to unsubscribe. You cannot require subscribers to provide you with additional information to unsubscribe.
If the WordFly unsubscribe link isn't present in your email, you'll see a red X when you are testing your email on the Email Checklist page.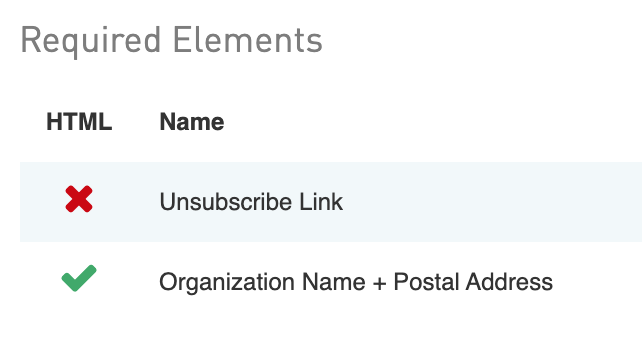 In the event that WordFly is not recognizing your valid opt-out mechanism (e.g., your organization processes unsubscribe requests manually with a mailto link), WordFly will not prohibit you from sending the campaign.
WordFly will still let you send out your campaign, but you should think twice about what you're doing if you don't have an a valid unsubscribe link of some sort. Please review the WordFly Acceptable Use Policy for more information.