The Tessitura v14 upgrade requires changes to your WordFly services installation as well as other updates. Review these changes and FAQs for Tessitura v14.
WordFly functionality
Tessitura is requiring .NET 4.6 for the v14 Tessitura upgrade. In some server configurations, this change breaks the current WordFly-Tessitura Integration v2 services.
NEW! WordFly-Tessitura integration v3 services are available now and should be installed to continue using the integration. Learn more
Contact Restrictions changing to Contact Permissions
In Tessitura v14 Contact Restrictions are being phased out and replaced by Contact Permissions. What does this mean for the WordFly-Tessitura integration?

Contact Restrictions refer to Mail, Phone and E-Market Restrictions that have historically controlled a patron's opt-in status for these communication channels. These fields were present in the lower right corner of the constituent General Tab. WordFly integrated organizations would configure Tessitura's LP_UPDATE_EMAIL_PROMOTION stored procedure to handle how unsubscribe responses (@response code 5) would update the E-Market Restriction on the constituent record. The typical unsubscribe configuration was to set the E-Market Restriction to No E-Marketing.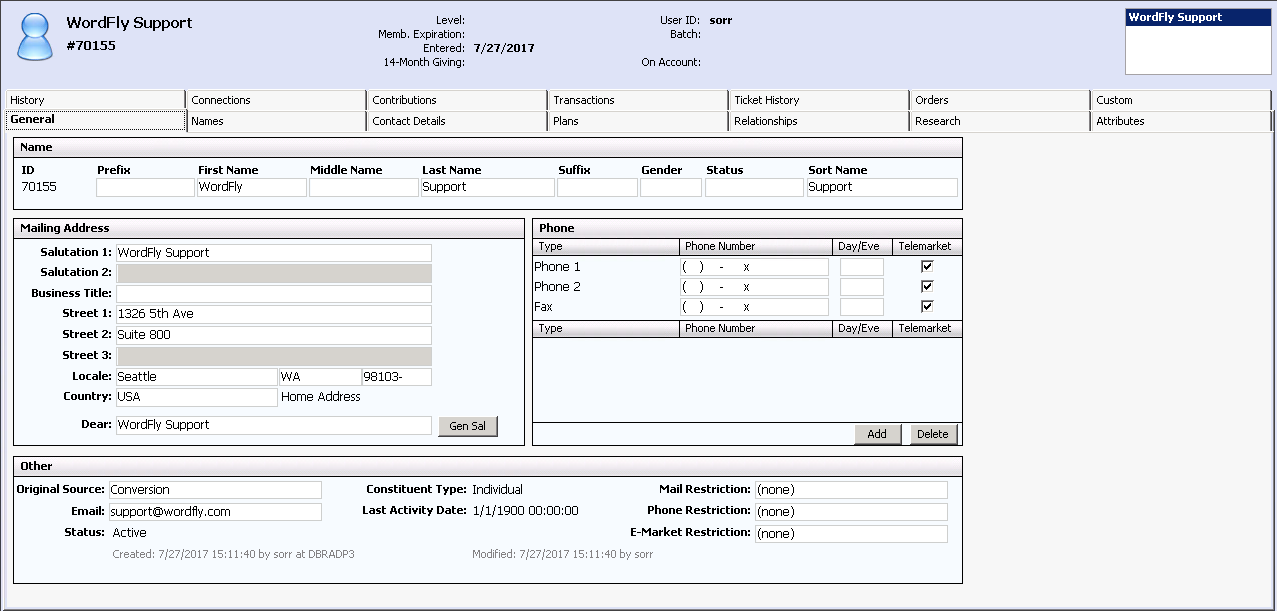 In Tessitura v14, Contact Permissions will be replacing Contact Restrictions. The E-Market Restriction will be removed. Permissions will be located under the Contact tab of the constituent record as a new radial option. Contact Permissions will give organizations a mechanism to audit opt-in and opt-out for various Media types. For example, when a subscriber unsubscribes for Media type Email, the contact Permission will need to be updated appropriately.
The upgrade to Tessitura v14 will require all organizations to update the LP_UPDATE_EMAIL_PROMOTION stored procedure to handle how unsubscribe responses update the Contact Permission for email.
Organizations using WordFly's integration with Tessitura preferences should also review the LP_WF_PREFERENCE_UPDATE_CUSTOMER stored procedure to ensure it is still handling preference updates (contact purposes, interests, and attributes) in the best way possible. In most cases, no changes will be necessary for this procedure. 
Using Contact Permissions for subscriber preferences
In WordFly, Contact Permissions have been added as an additional WordFly Preference Type for the WordFly-Tessitura preferences feature. At this time, the default LP_WF_PREFERENCE_UPDATE_CUSTOMER stored procedure can only process contact purposes, attributes, and interests. Additional code will need to be added to this stored procedure in order to process contact permissions. Email WordFly support for the additional code.
List and Output Set UI changes in Tessitura
Tessitura Lists (List Manager lists) and Output Sets have been integrated and given a streamlined workflow and refreshed user interface in v14. Please plan to review all the help materials provided by Tessitura for changes to Output Sets and Lists in v14. You will need to make changes to your output sets as part of the new workflow. Tessitura has an output elements and parameters migration that is helpful for understanding what you need to do on the database side.*
Additionally, some organizations have noticed that Extractions using certain output sets need those output sets made available to WordFly. If users receive an integration error message when selecting a download for an Extraction import, then the output set is not available to WordFly and needs the TMS box checked or the control group correct. Learn more about troubleshooting Extractions.
*Note that these list and output set changes in Tessitura do not alter what is provided to WordFly. Your list imports (including triggered campaign imports) will all work the same through the integration. However, you will still need to follow Tessitura's lead on making the appropriate updates to your output sets. If any elements change in Tessitura then you may need to re-assign (and re-map) your triggered campaign lists in WordFly.
GDPR updates
In response to the upcoming GDPR law, Tessitura has developed several updates to meet the law's requirements. One of those updates is to "forget customer". Using this feature in Tessitura will not update any information in WordFly. WordFly provides its own Forget this Subscriber button on the subscriber profile page that will permanently delete all WordFly data associated with an address when clicked. Read more about our GDPR updates